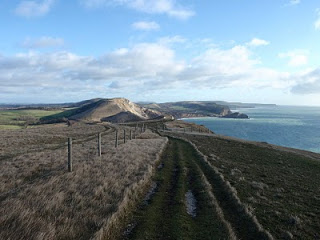 It is hard to resist re-taking the same photographs on each trip along the Dorset coast. The scenery is spectacular and quite unlike other parts of the country.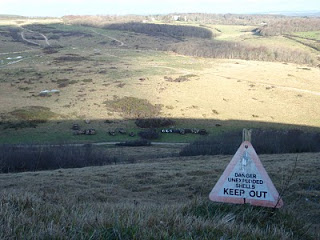 The coast path to the east of Lulworth crosses an area used by the military and sometimes a red flag flies high and the area is closed. Down below the path here is some of the hardware they use in their games.
This route makes a good day-trip; 3 hours out and 3 hours back. Then add some time for stoppages. Over Christmas week a 10:30 start saw me return around 5pm in the moonlight.
Near to Lulworth is the 'fossil forest' – see the very obvious remains of trees as circular bole shapes. Apparantly it's not the tree that is fossilised but the algae that grew around its base when the forest was flooded. The picture below is from http://www.soton.ac.uk/~imw/Fossil-Forest.htm where you can get more information.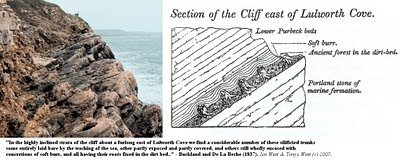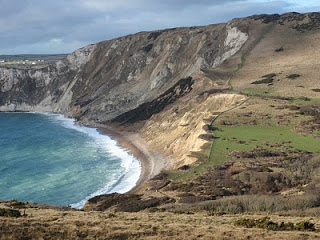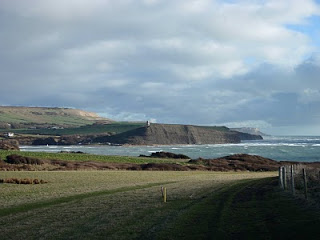 The image above looks across Kimmeridge bay and shows the Clavell Tower on the cliffs to the east (click on the image to enlarge it). Orginally built not so long ago in 1830s, this unremarkable folly became famous in more recent years. This as a result of millions of public money taken from the lottery fund and spent by the Landmark Trust to dismantle the tower brick by brick and rebuild it 25 metres further inland.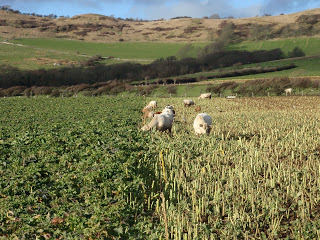 On the left – uncropped cabbage. On the right clean stripped stalks. In the middle a row of fat Dorset cows.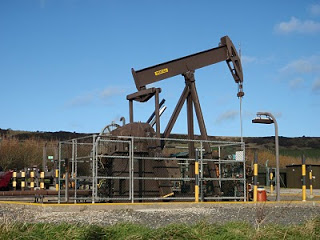 One of several oil wells in the area operated by BP. This one yields around 80 barrels a day.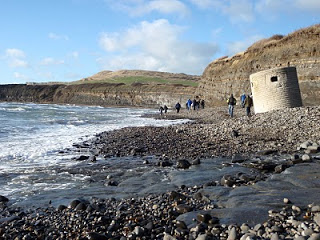 The beach at Kimmeridge.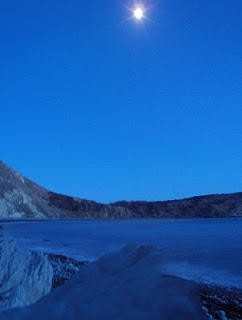 Moonlight over Lulworth Cove.
Pictures: reduced to 'JPEG Low – 4' quality
for upload. Reduced from 5mb to <1mb.

Boots Asolo Fugitive GTX

Paramo Velez Adventure Light smock
Intermediate Paramo Mountain Vent Pull-on shirt