After Edzel it becomes a typical UK farming landscape with fields of green wheat and barley and the bright yellow of blooming rape.
My final destination was St Cyrus and the route was along country lanes. One fellow clipping his hedge said 'you'll be the first today!' – as if he and other locals follow this annual event. I knew I wasn't the first because less than half the tents were remaining when I left the caravan park at North Water Bridge.
The approach to St Cyrus gives no indication that the coast is nearby. No glimpses of the sea. No change to the landscape. The first sign was 2 challengers waiting at a bus stop. The land rises before the coast up past the local tea room and a primary school with children having their lessons out in the garden. Then the coast path.
And a stunning view down the cliff to a wide wide stretch of sand backed by sandhills and a few tiny figures walking along the glistening shore.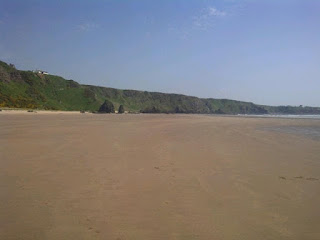 Sand between the toes on a bright sunny day is a true joy and a paddle in the sea. All enhanced in the knowledge that the target is met!