note: you can click on a picture to enlarge it (because of the accident on day 3 pictures are from my MotoG phone and not the Sony RX100 – hence the lower quality) …
Push and pull the map in the window below to see the route in blue.

Download file for GPS
Sunday 16th May Loch Callater to Clova
By 7am the smell of bacon drifts up the stairs, and guests as they appears are supplied with mugs of tea and bacon rolls.
I planned to walk over to Lochnagar and then double back to Cairn Bannoch and Broad Cairn. This caused consternation to everyone I confided in, and lots of advice for alternatives. The idea of doubling back seemed unthinkable!
In any event with a poor weather forecast I was easily persuaded from being too ambitious and set off with a shorter route. The path up from the lodge is easy going with good views down to the Loch. Jocks Road continues southwards along the valley below while the high path traverses eastwards to Carn Sagain Mor (1047m).
The ridge south from here joins Cairn Bannoch (1012m) and Broad Cairn (998m) and leads to a wide flattish area where a small building known as the pony shed marks a dividing of the ways. Loch Muick is off to the north and my path to the glen with River South Esk heads south.
Les and Issy caught me up on Broad Cairn and a brief shower of hail obscures them as they rock-hop down to the pony shed.
I follow a well-made path leading down eventually through a few trees to the River Esk.
Throughout the trip I have seen very few walkers away from the roads, so I was quite startled when I turn a corner to be confronted with more than 30 people. It turned out that they were a bird watching party, guided by national trust / forestry wardens. They were on the look-out for golden eagles, but none appeared while I was with them.
I could see that my planned high-camp spot was not really viable, but once down on more level ground around Glendoll lodge there were several possibilities. My shortened route however gave me time to reach Glen Clova Hotel. The weather was now fine and there was a great temptation to dawdle in the afternoon sunshine. This is the only place I was offered a lift on the whole trip. 3 cars stopped or slowed down, but I resisted.
I was lucky to get the last room in this small hotel. After a long soak in the bath and a rearrangement of of my pack I headed to the bar to be greeted by Carburn Chamberlain. We shared a long table and gradually more TGOers arrived for food and drink.
Carburn was camping across the road. The hotel had several outbuildings used as bunkhouses, and a few TGOers were staying there including Frederick who travelled Jock's Road from Lochcallater Lodge and Les and Issy.
This proved a comfortable hotel with reasonable food, and a guest ale amongst the typical Scottish brews. A newly installed wireless network failed to work which was a disappointment, but batteries could be charged, and the hotel phone rates were not too high.
Monday 17th May Clova to Tarfside
At 8:30 we were 7 or 8 TGOers in the breakfast room.
I got away by 10:00 and headed up the slope behind the hotel. It remained clear just long enough for me to see Carburn disappear over the top of the ridge around Loch Brandy. By 10:30 it was raining and snowing. This was wet and miserable walking on an indistinct path over rounded hills Muckle Cairn, Sulley, Burnt Hill, with occasional views towards the valley on the north side.
With the exception of one figure spotted around 2pm I saw no-one else all day until arriving at St Drostans. This place was heaving with TGOers. Where had they all come from?
Wet gear was everywhere. And welcome faces in the kitchen with a range of temptations from tea and scones, to cakes and fruit, and even bottles of beer. I was surprised to be offered a place for dinner – I declined having stocked up in Braemar. Eventually they had four sittings for a baked potato meal.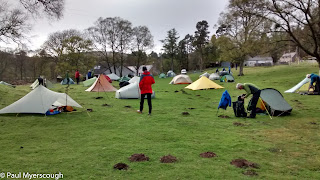 The field in Tarfside was filling with tents making a good opportunity to see what is new, and what is recommended for these trips. The star for 2015 was a custom built tent / tarp from Colin Ibbotson (who appeared on my route exactly 1 week ago following the Scotland National Trail). Gordon Green was one of the first owners and was very enthusiastic. As he is an ex- Trailstar owner I felt I should list to him.
Another TGO institution is the 'club' at Tarfside. An anonymous building just across from the camping field is said to be owned by the Masons. At 7pm we passed through the door into a large room with a fire at one end and a bar in the corner. After signing-in we proceeded to buy and drink cans of beer and talk loudly to each other.
Along with Mike Akin-Smith I heard about the frustrations of a young runner – "we must walk so slowly and carry so much!". Sarah Morton was looking forward to some long mountain runs in the Alps this summer, and would not be doing the TGO again soon!
Tuesday 18th May Tarfside to Clatterin' Brig
Although it was busy last night, Tuesday is peak time and Tarfside would probably have even more TGOers today. After a freezing night I get away before most at around 7:30. The track north heads into the hills straight from the middle of the village.
After a kilometre or so a path takes off to the east up to Craig Soales, the first of several low tops on the ridge up to Mount Battock (778m). Someone ahead of me is walking a little faster and after an hour he has disappeared from view.
The hills here are reminiscent of the Monadliath – brown rounded terrain with land rover tracks heading along the valleys or ridges. There's a few sheep roaming free here which I've not seen in the Monadliath, and before long the barren hills give way to farmland.
I've made a route which heads north, then east, then south to maximise my time away from civilisation. There's two other TGOers with a similar idea. I see them ahead of me for a large part of the afternoon and I meet them briefly after they miss a turning allowing me to overtake.
The last of the ridges pointing eastwards drops down steeply to a road junction and a cafe at Clatterin' Brig. Here the two TGOers are the last customers at closing time 4pm.
The Drumtochty Forest across the river to the east is my target for a camp. Skirting the woodland to the South I find the tracks different from my map, and after retracing my steps several times I end up beside a farm track into the forest at 7pm.
In the field nearby I can see sheep with lambs and some feed supplement, which means a likely visit by the farmer. Sure enough as I'm eating in my tent an ATV goes past.
Wednesday 18th May Drumtochty Forest to Inverbervie
I determine to move off early to avoid another visit and start getting up at 5:30am. Before 6, as I am eating breakfast the farmer arrives again. We have a conversation through the tent wall. He has noticed walkers doing the 'coast to coast' around this time in other years and wonders if that's what I'm doing.
I strike off skirting the woods following the field edges until I eventually get close to the road. It is difficult to avoid much road walking on the last day, and my efforts lead to some unexpected diversions when I find the way blocked by a new industrial estate, and when I find the air misted by a chemical spray recklessly applied on a windy day by a farmer.
My target of Inverbervie is at the mouth of the Bervie river and, although there are no riverside paths marked, I determine to try to follow the bank for the last 7 or 8 kilometres. Although it is mostly agricultural land here, this mostly ends at a wooded escarpment which rises above the south bank of the river.
The weather is fine and although the going is easy, this is a great way to turn a two hour walk into a five hour adventure. In places there is the makings of a ancient track not shown on my map.
Eventually I come to the town where friendly locals offer cups of tea and a chat. I head straight for the beach to complete my journey before looking for the 'award winning' fish and chip shop. This is closed, and so I go to the Crown Hotel which a local has mentioned as somewhere I might find a room. This is a quiet place, uninviting as far as accommodation is concerned. While supping a drink I use their wireless internet and find that Gourdon just down the coast is more promising with an 'award winning' restaurant and a highly rated B and B.
30 minutes later I enter the quiet town of Gourdon, looking for some guidance to the B and B. The first person I meet is TGOer Mike Akin-Smith who is looking for a bus to Montrose. He advises me to consult in the local museum and before long I'm established in a large and comfortable room at Lilybank Guesthouse B and B.
Irene explains that their 'award winning' fish and chip restaurant is closed for holidays and, taking pity on me, proposes that I share her husband's meal of place goujons, chips, and peas. How could I refuse? 5 minutes down the hill the Harbour bar provides some liquid refreshment.
Thursday 19th May Gourdon to Montrose
The coastal path is well signed at Inverbervie and follows a dismantled railway line. As you get further south, beyond Johnshaven, things are less clear. I hadn't seen a map of this area for a few months and this trail was not on my plan, so I was happy when I identified Montrose Lighthouse on the horizon.
Although I start off in rain this soon stops and it becomes quite a pleasant walk. There are not many features of special interest until St Cyrus where the spectacular beach backed by high cliffs is breathtaking.
This place is all the more curious to approach from the south because as you get closer you can see a steady stream a people popping out from the bottom of the cliff in the middle distance. They are all heading to the sea, then they turn about and head back to the cliff from where they came.

TGOer of course!
Crossing their path seemed anti-social, but each one of them could also have headed north on the beach towards Montrose instead of up the cliff to the pub / bus / cafe.
At the top end of the beach are the remnants of a fishery where the salmon were trapped in a system of nets as they headed towards their spawning grounds in the river Esk. Here also is the St Cyrus nature reserve with an area that has been reserved for nesting birds for many years. There is an information centre with coffee machine and toilets.
It is necessary to divert away from the coast to get across the river. The old railway bridge has be turned into a footway / cycleway. By keeping on this track it is possible to avoid the roads until reaching the town side of the golf links.
Once here it is just a matter of following any old blokes with backpacks or ladies to arrive at the Park Hotel where the TGO Controllers sit.