Last weekend in London. County Hall was where Ken Livingstone made his name in the 1980s. This view – has more echoes of Boris Johnson than Ken.
Whereas a mile or two away, in Piccadilly, this seems more up Ken Livingstone's street. I don't think Boris will lead the charge here ("Don't do wrong with your Shlong")!
Exactly what the protests were about I'm not sure . But variety is one of the plus points of London!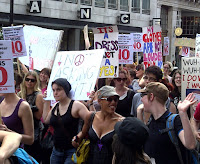 As usual – Dad likes to be in control.