The cacophony from birds was rather special in this area. Through the night a cuckoo called continuously. Occassionally an owl. And at dawn as the cuckoo stopped a hundred other birds took over.
I started off early and soon caught up Charles and Brian, senior TGOers who stayed in the right place – a bothey just a 30 minute walk ahead of where I stopped. They were roughly following my route to Tarfside but were taking 2 days over it.
At the top of the pass I reached a 19 timer Chris P. He was planning to leave his bag and go up a 'newly elevated munro top' at the end of the Lochnagar ridge. I munched a breakfast sandwich as more and more people arrived from Glen Muick carpark in the valley ahead.
Lochnagar bright with its covering of snow dominated the near view to the west.
I headed on down to the valley below where daytrippers were arriving. Their route crossed mine as they walked up to Loch Muick. I followed a minor path up the other side tracking the burn up to its source some kilometres distance and several hundred metres in elevation reaching another trackless watershead by late lunchtime.
Every curved hilltop and meandering watercourse looks similar up here so this was one of the few occassions I needed the GPS in order to identify the slight depression which indicated the route to the next valley down.
The Waters of Mark is the name of the stream in this glen. It starts in a grassy sheltered landscape populated with deer. I stopped for a sandwich and to watch a group of them grazing. Before I knew it I was asleep in the warm sun – waking up with a start wondering what had happened to roof of my tent.
As I was finding time and again on this trip the valleys were longer than they seemed on the map. This delightful lead into the eastern side of Scotland and out of the mountain area presented no path for another 2 or 3 hours, by which time I was ready to rest for the day.
Tarfside would have to wait for tomorrow. I found some level sheep-nibbled ground by Queens Well where another path joins from Mount Keen – one of the favourite TGO routes.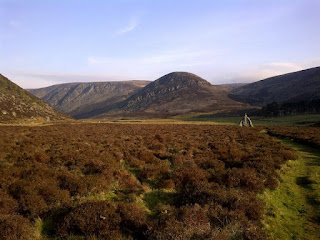 After an hour or so I was joined by Herman who announced that Russ was following and had twisted his knee, so they would stop nearby. Russ was a pipe-smoking senior veteran of 11 challenges while Herman himself had also done it before.
Sent from my mobile