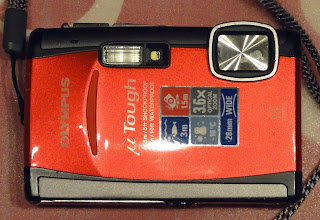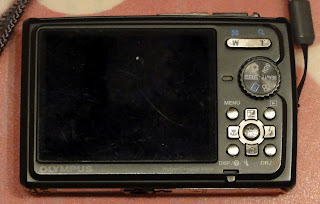 I gave up carry a big camera on walking trips some years ago when I discovered that this was a major source of back trouble. Now compact digital is the order of the day.
Digital cameras don't enjoy wet conditions however. My older Pentax Optio was often out of action for a few days after rain until it could be fully dried out. My current favourite from Sony is the Cyber-Shot DSC-HX5 (more here http://www.imaging-resource.com/PRODS/HX5V/HX5VA.HTM). When it rains it is double wrapped in my pack or pocket – it feels and looks too delicate for rough all-weather handling.
You'll see lots of good pictures from the TGOC despite the challenging conditions. How is this achieved? My answer is to use this Olympus 'Tough' camera when wet weather is expected. It can sit in my pocket without a case, attached to my anorak by a length of dynema chord and is then ready to take a picture at any time.
In 4 or 5 years of service I have come to understand how to use it at its best and despite its shortcomings in the schema of hi-fidelity photography (imagining resources who provide some of the best equipment reviews suspended a recent review because of the image quality) it can take satifactory pictures in any weather.
I appreciate two features not found on any of my other cameras. One is an LED light which is useful instead of flash for close-up (macro) photography. Another is tap control which enable the selection of some setting options by tapping the camera on the side or top – this is a partial remedy to the difficulty of pressing the tiny control buttons with thick gloves or mittens.
This is the latest incarnation Olympus Tough TG-1 HS. Despite significant improvements it is hard to justify an upgrade while my current one still delivers . Temptation on Amazon at a bit under £300!
Spare batteries are essential for a trip like this. With OEM batteries costing around £30 I've gone to Ebay more than once and generally been satisfied with what I get for £5 or £6. A charger is another necessity. The Olympus charges the battery in situ – not the best option for public places. This year I found a great light-weight charger that is good for most camera and mobile phone batteries and will also charge AA batteries.
The only other accessory is a mini-tripod to be used for self portraits and group pictures!