I visited Copenhagen irregularly since the 1960s and never associated it especially with good food until Noma. Noma was founded by chef René Redzepi  from El Bulli and Claus Meyer – their new restaurant replacing El Bulli's crown as the best restaurant. Noma cuisine is supposedly 'Scandinavian'; the restaurant's founders have apparently attempted to redefine this Nordic cuisine.
Some years later the progeny are now making their mark in the Copenhagen restaurant scene. Radio was our first recommendation. Radio is a project from the co-founder of Noma and, I expect, follows the lead with seasonal organically grown and wild food. Bror was another recommendation. The owners Victor Wågman and Sam Nutter were both employed as Sous Chef at Noma during the period which it maintained two Michelin stars and was named as 'The World's Best Restaurant' three years running.
We had two evenings in Copenhagen, so it was natural to book one evening in each restaurant. We booked a table for our arrival day at Radio and two weeks ahead the only times available was 20:45 or 21;00. For Bror on the next evening the only time was 17:30 or 18:00. Both times met our needs, but beware there may be limited choice.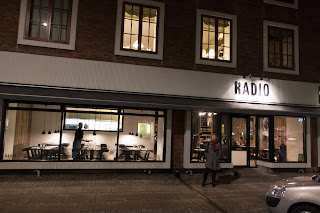 Radio was smart and new in a street devoid of other restaurants and bars although not far from the centre, while Bror was a little more central and seemed well worn and tired especially in the basement where we were ushered.
Both restaurants offer a set menu of three to five dishes with a few optional additions. A menu of matching wines is also available. While the Radio menu describes the dishes by listing the four main ingredients in each, Bror gives nothing away – leaving it to the waiter to reveal as much or as little as takes his mood.
The amuses gueules at Radio are tiny tastes of mushroom cream on a crisp wafer, at Bror you must pay for the extras selecting from a small list – place skirt / cucumber / seaweed was one mouthful,  egg yolk / leek / sourdough / pigs blood provided a second.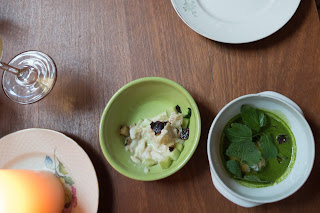 Amuses gueules at Bror @ 40kr each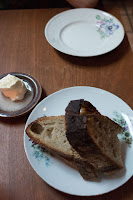 Bror's bread with pork fat & butter mix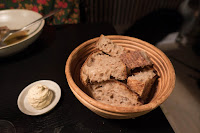 Bread at Radio with thyme butter
Bread at Bror comes from their own bakery – a moist chewy sour dough, served with butter with added salt smoked port fat and thyme. Radio bread was lighter with a more appetising flavoured butter.
At Radio we chose 3 courses from the set menu and added an optional 4th course.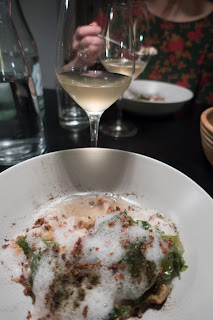 Squid under foaming mead
Roasted squid was served with celeriac, seaweed, a foam made with mead, and topped with a crunch of rye bread crumbs. A nice balance of flavours and textures. The matching wine was a cloudy 'biodynamic' Chardonnay from France.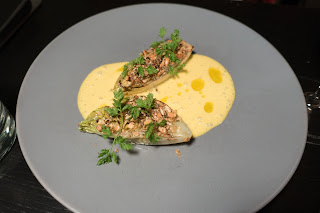 An alternative to the squid was lettuce with roasted seeds and rapeseed sauce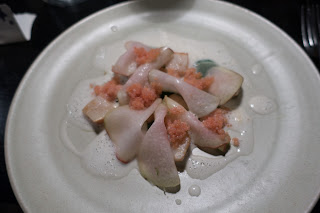 Scallops
Scallops from Greenland were prepared with apple, lumpfish roe, and a mussel sauce. Exquisitely tasty. This dish was matched with a Riesling.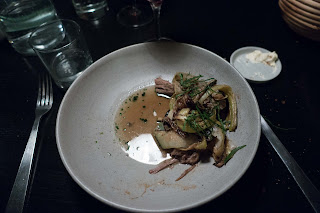 Veal in chicken broth
Slow cooked veal in a chicken stock was served on leeks with a wild garlic garnish. Matched with a Barbera d'Asti 2009 from a small estate.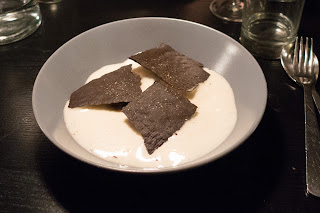 The dessert was presented on the menu as 'Apple, Malt, Licorice, Salsify' – a delicious dish nicely served with a 2011 Sauternes.
At Bror we took the chef's 4 course option after the amuse gueules described above.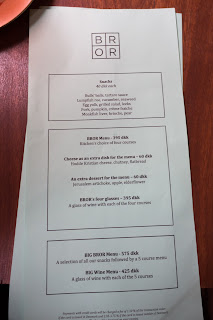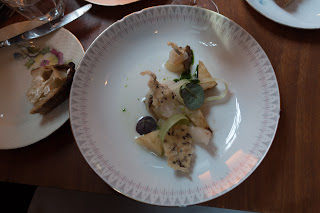 Cold cod from Bror
This started with salt smoked cod served with roast celeriac, parsley oil, and tapioca crisps, garnished with nasturtium leaves. The dish served too cold – at fridge temperature, and the taste was dominated by the celeriac. Like Bror the wine started with an unfiltered white – this time from a small vineyard in NE Italy with Ribolla / Fruilli grapes.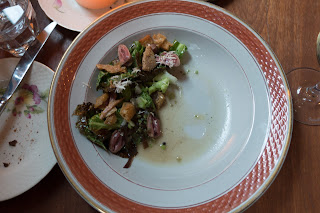 Chicken hearts with cabbage
The next dish incorporated chicken hearts with braised cabbage and horseradish topped with chicken skin croutons. Unfortunately the taste and aroma was dominated by burned cabbage. The married wine was a Cheverney from Loire in France made from a blend of Sauvignon and Chardonnay grape.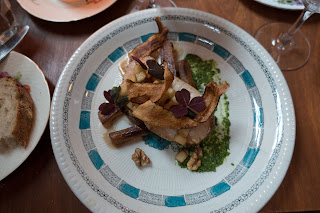 Pork with salsify crisp
A rich 2013 red from Languedoc called Payel (?) accompanied the third course – loin of pork. This was soft and tender and combined with a walnut pesto and salsify and apple.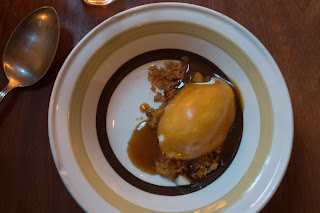 Bror's dessert (note the chipped crockery!)
As dessert we were served sea buckthorn with a sour milk ice cream topped with a crumb carrot cake. To accompany this there was a Pomano from Somerset – a blend of apple brandy and juice.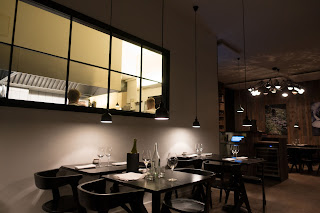 And the winner is … Radio!
Of the two it is easy to prefer Radio. Every dish at Radio was well conceived and perfectly prepared; Bror concoctions may have had the same ambitions but they failed to deliver in design or execution or sometimes both. The ambiance at Bror was tired, and the un-matching and chipped crockery made it seem past it best.