Here we Go – TGOC 2021!
The Great Outdoors Challenge Scotland coast-to-coast backpacking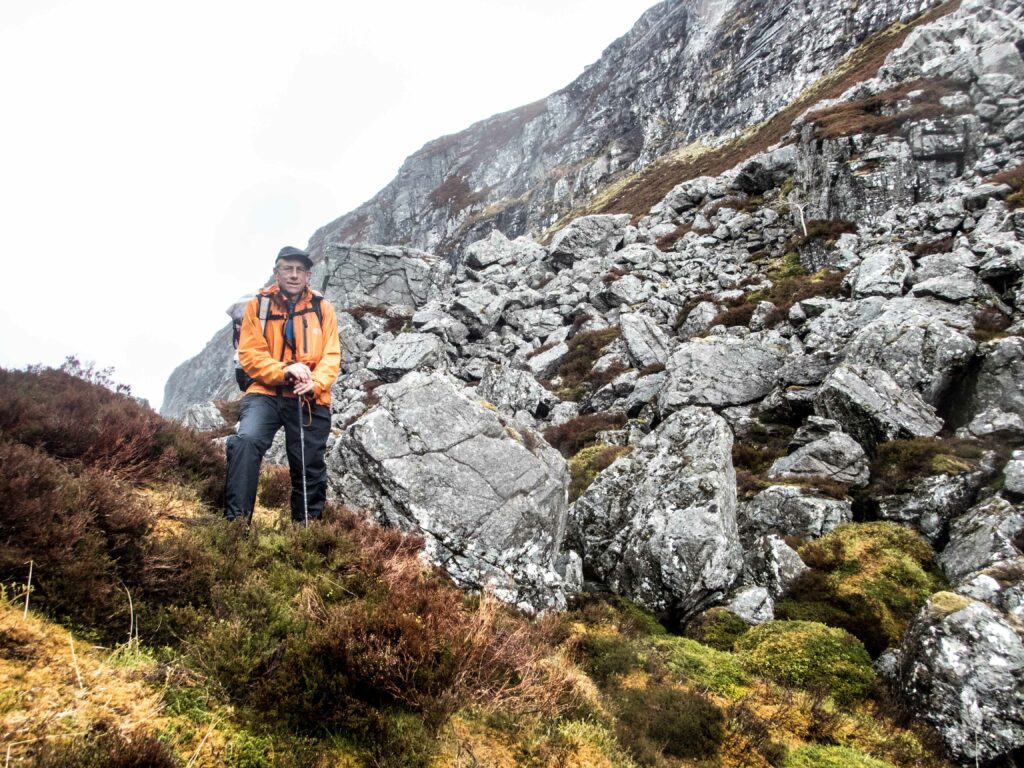 In 2016 I 'walked' through the jumble of rocks that make up Dirc Mhor, this time I will be definitely walking around!
Planned for May 2020, postponed to 2021, and now shifted a month or so into the midge season!
Here's the route sheet. Click on the description to open a map in a new window!
| | | | | | |
| --- | --- | --- | --- | --- | --- |
| Day | DAILY ITINERARY WITH FOUL WEATHER ALTERNATIVES (FWA) | OS MAPS | DISTANCE (km) | ASCENT (m) | OVERNIGHT HALT |
| 1 | Loch Shiel House Hotel S. on A861 at NM690657 E. along edge of plantation and via Allt Mhic Chiarain to Beinn Resipol. E. then SE to Scotstown & road. Follow right fork in road heading NE to Ceann a Chreagain for camp spot. | 40 | 22 | 1040 | Ceann a Chreagain NM854653 |
| | FWA: | | | | |
| 2 | E. to Sgurr a Bhuic and SE to Sgurr nam Cnamh and to ridge E via Beinn Bheag, Sgorr Mhic Eacharna. Ridge S. Druim an lubhair to lochan then descend E to join road at Gearradh.aDescend NE to join track in Glen Gour. Road to Corran. Ferry to Inchree. | 40/41 | 21 | 1150 | B&B Inchree (tbc) |
| | FWA: NE then SE / E along river via Lochan a Chothruim to descend Glen Gour eventually on track and then road to Corran. Ferry to Inchree. | 40/41 | 18 | 200 | As above |
| 3 | S. on road from ferry, then left to join paths and track up Gleann Righ. Cross river S nr Sallachail and through woodland to ridge Leac Minor. E. via Tom Meadhoin to Mam na Gualainn and Beinn na Caillich. Descend E to join W. highland way to Kinlochleven for supplies. Head NE to find campspot about 1km from town. | 41 | 21 | 1359 | Alt Coire na Ba |
| | FWA: S. on road from ferry, then left to join paths and track up Gleann Righ. Continue NE to skirt Loachan Luhn Da Bhra and join W. Highland Way. Track S. then E to Kinlochleven. | 41 | 26 | 786 | As above |
| 4 | N. to join SE ridge of Stob Coire a Chairn. SE to Na Gruagaichean. Ridge NE to Binnein Mor. Descend to N. then E to join path skirting Binnean Beag to Dam then E to Luibeilt and along river to Creaguaineach Lodge. | 41 | 19 | 1149 | Camp Creaguaineach |
| | FWA: E. on track via S. end Loch Eilde Mor follow s. shore then E to skirt s of Glas Bheinn joining track NE along Allt Faith Chiarain to Loch Treig. Left turn to Creaguaineach Lodge for camping on nearby level ground. | 41 | 19 | 610 | As above |
| 5 | Track E under railway to Loch Ossian and Corrour Lodge. Cross river to NE the N on ridge to Mullach Coire nan Nead. E. Beinn Eibhinn, Aonach Beag, Geal Charn. High camp at Loch Coir Cheap. | 41/42 | 25 | 1270 | Loch Coir Cheap NN 481 755 |
| | FWA: Track E under railway to Loch Ossian and Corrour Lodge. Cross river to NE, path NE to Bealach Dubh and on to camp near Culra Bothy. | 41 / 42 | 27 | 640 | Culra Bothy |
| 6 | Regain the ridge to NE over Carn Dearg to descend to track across S side of Loch Pattack. Track N to waterfalls and footbridge, path E along Allt Beiin Eilde. NE over bealach and skirt Creag nan Adhaircean to find campspot at Loch Caoldair. | 42 | 24 | 528 | Loch Caoldair |
| | FWA: Track NE to Loch Pattack. Track N to waterfalls and footbridge, path E along Allt Beiin Eilde. NE over bealach and skirt Creag nan Adhaircean to find campspot at Loch Caoldair. | 42 | 20 | 285 | As above |
| 7 | NE. on path to A889. S. on road for 1km; E followimg edge of plantation to Meall Ruigh nam Biorag. E. to join track, then NE to Falls of Trium. Cross road and railway to Etteridge and track NE to Phones. N. on path to Raliabeag, then road into Newtonmore for resupply. Return over Spey bridge and cross A9 to join path heading SE to Gen. Wade's road. Camp near Lochan Dabbaich. | 35 | 24 | 425 | Loch an Dabhaich |
| | FWA: | | | | |
| 8 | Path NE toward Ruthven, Tromie Br. avoiding road if possible. Track NE to Inveruslass and join Badenoch Way N, the NE via Torbreck to Feshie Bridge. Track NE then path E & SE towards Creag Dhubh and camp spot. By Allt Coire Follais. | 35/36 | 23 | 380 | Allt Coire Follais |
| | FWA: | | | | |
| 9 | SE to Creag Dubh, then S. on ridge over Shoran Dubh More, Sgor Gaoith, Carn Ban Mor, and SE to join track heading E. Skirt N side of Tom Dubh to Loch nan Stuirteag and descend to Glen Geusachan for camp spot. | 36/43 | 20 | 1060 | Glen Geusachan |
| | FWA: Traverse SW to find track across Allt a Mharcaidh. W., NW. then SW past Landing Strip to Achlean and on main track in Glen Feshie as far as bridge over R Eidart for camp spot nearly. | 35/43 | 26 | 650 | Eidart NN 912 883 |
| 10 | E. to leave Glen Geusachan and cross r. Dee. Path E to Luibeg br, and set-up camp. With reduced pack cross burn, track N, ascend nose of Sron Riach. At top of ridge W to Ben Macdui summit. Return to camp spot via Carn a' Mhain. | 43 | 22 | 1200 | Luibeg Br |
| | FWA: Follow Geldie Burn E to White Br, Linn of Dee, Linn of Quoich. Road / track to fb and Garbh Allt Shiel. S. past falls to camp. ( | 43/44 | 35 | 440 | Falls of Garbh Allt NO 204 890 |
| 11 | Path E to Derry Lodge. Track SE, then NE via Clais Fhearnaig to Glen Quoich. SE to Linn of Quoich then road / track via Invercauld House to fb and Garbh Allt Shiel. S. past falls to camp. | 43 | 25 | 500 | Falls of Garbh Allt NO 204 890 |
| | FWA: (from FWA 23rd, skip to next day) | | | | |
| 12 | Track S. to Carn an t-Sagairt Beag, then E to Cac Carn Mor. Descend N then E past memorial to join track to Spittal of Glenmuick. SE path to camp at bothy Shielin of Mark. | 44 | 22 | 1123 | Shielin of Mark |
| | FWA: Traverse E on path via Feith an Laoigh to track over Gelder Burn, then S. on track to Spittal of Glenmuick. SE path to bothy at Sheilin of Mark. | 44 | 21 | 770 | As above |
| 13 | Follow river Mark NE, then S and SE past Queens Well to Tarfside. Find track to NE leading to Blackcrags. S to Millden Lodge, cross r. Esk. Track on S. side of river to cross on new bridge near Cornescorn and on to The Burn (reservation). | 44 | 37 | 350 | The Burn |
| | FWA: | | | | |
| 14 | From The Burn riverside path, then tracks and minor roads SE to N. Water Bridge. Cross r Esk, then S and SE to Hillside and Montrose. | 44/45/54 | 21 | 130 | |
| | FWA: | | | | |