An early start got me to the Mar Lodge estate for breakfast at 9:30, and to Braemar soon after 11. And not a TGOer in sight!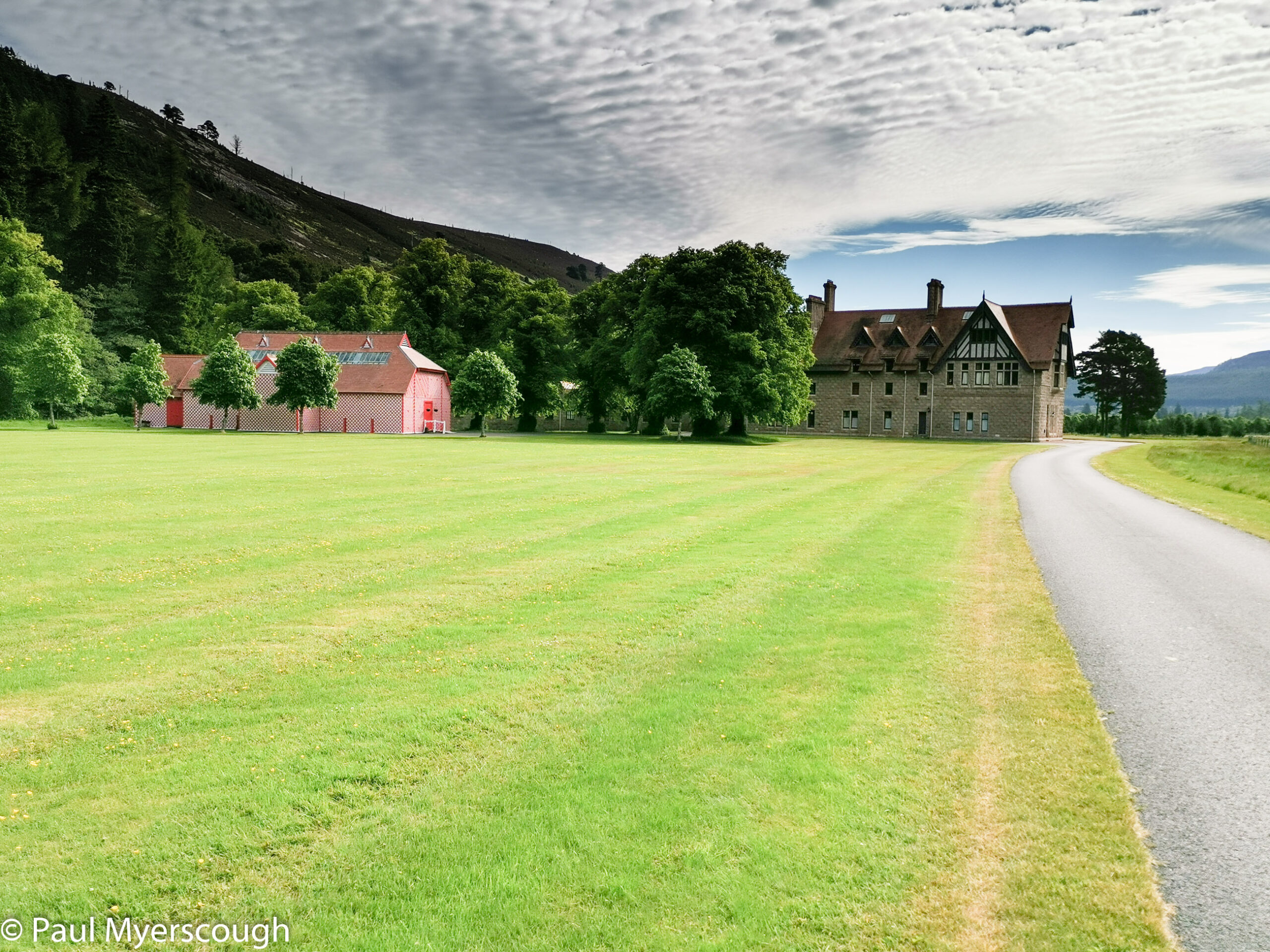 Many places were closed on this Monday morning. Braemar Sports provided the main hub of activity with a busy café now attached to the mountain gear shop. Having bought some essentials at the Coop, and a dried meal at the mountain shop, I settled in the café at a table overlooking the river with an order for the lunch-time special. The place was abuzz with holiday makers.
My route headed through Balochbuie Forest on the Balmoral Estate towards Lochnagar. On the OS Map "Falls of Garbh Allt" had caught my eye and I planned to investigate on my way through. Nearby, on the track, there was a smart new Landrover with blacked-out windows. It looked like some guests of the Balmoral estate had a similar idea.
3 old-ish people followed me down a side-path which ended by a pool in the river with an impressive cast-iron footbridge over to the other side. It seemed like they were 'official' tourists and I was an intruder, so I headed back past their transport with a relatively young Balmoral-uniformed female driver and a smartly dressed Japanese lady.
It was too early consider camping anyway and I headed slowly up through the woods to higher ground.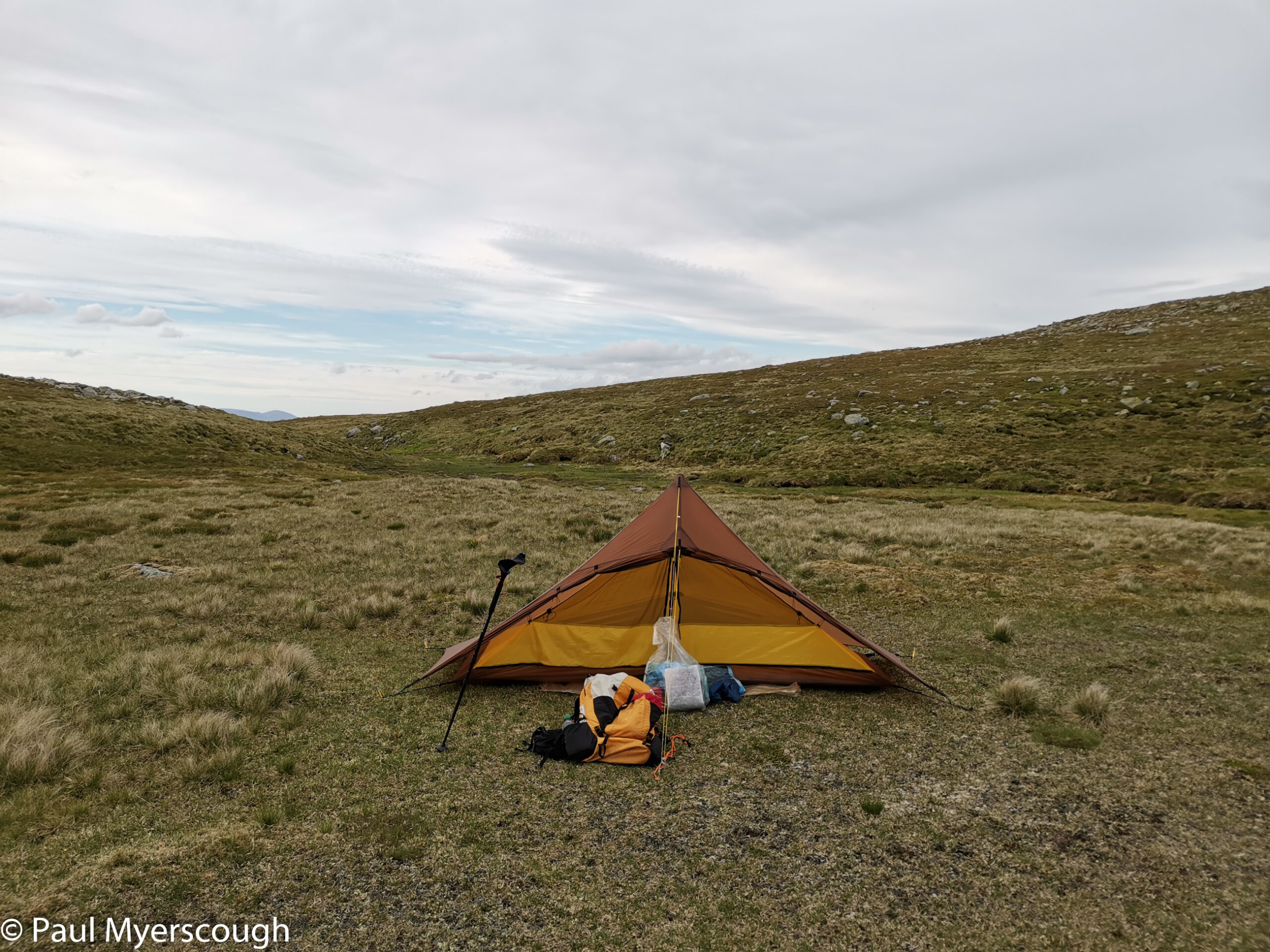 I found a flat pitch on a bealach at 960m, saving the top of Lochnagar for the next morning. My sleep was troubled by a strange warbling noise, probably made by one or two birds flying around the hills here throughout the night.

I was on my way to the top by 8am. The summit, at Cac Carn Beag, was mine alone for half-an-hour before the next walker arrived.
I descended by Glas Allt on the rough and rocky path down to Loch Muick. A holiday resort! Families were strolling around the lake in the hot sunshine while some people were sat on the beach and others splashed around in the water.
My next two days were not well planned – the second would be very long, more than 35km. I wanted therefore to get ahead of the planned overnight stop at Shielin of Mark Bothy reducing the mileage challenge on the next day.
I soon left the 'tourists' behind and went up the gap behind the Spittal of Glenmuick.
Navigation to this bothy can be problematic, but using a GPS this time I took a direct line and descend to the building from the hill behind. There were people here. And of course they were all TGOers! Among them was Anna one of my co-starters from Acharacle! It was a good spot to bathe the feet and have a cuppa and regroup before heading on for a couple of more hours walking.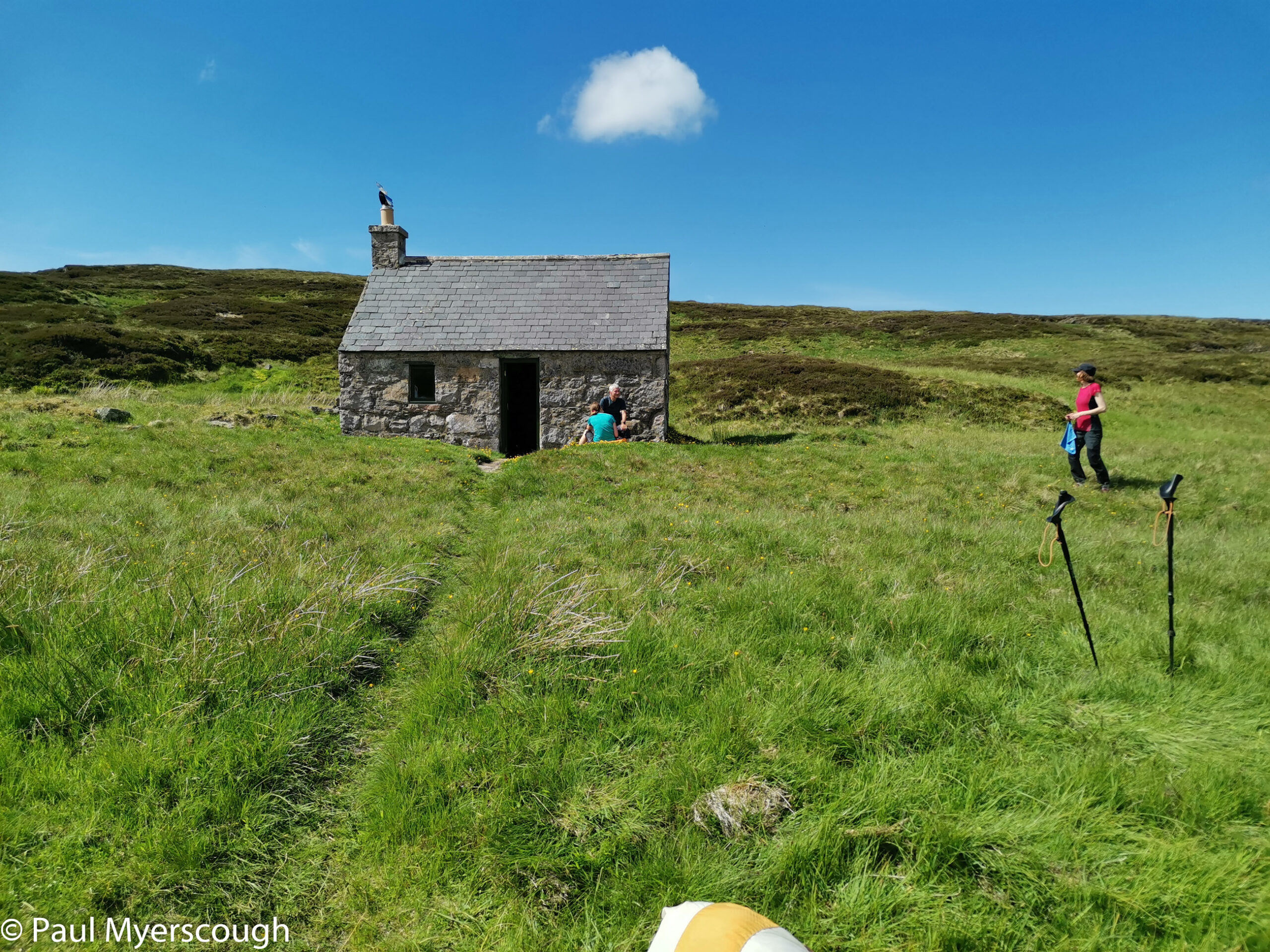 The journey here would retrace my steps from my first TGO – along the Water of Mark. This river which passes in front of the bothy loops northwards before heading south and then east to join the outflow of Loch Lee soon to pass by Tarfside in Glen Esk. There pools along its length inviting a refreshing dip on a hot and sweaty day.
My eye is always drawn to the legend 'Balnamoon's Cave' on the map. It is here where I pitch my tent, at the point where a path appears for the first time in the valley. The cave is indeed there, and was used as a hideout for a fleeing laird in the mid-1700s. It was invisible to me that evening, so maybe one more trip here is in order.
In the morning I soon joined a farm track taking me past Queen's Well where I found Ian taking his morning cuppa. He enthused about his 5 hours on top of Mount Keen watching football on his 'phone. A little further on someone else was tucked up in their tent.
The road is reached at House of Mark and a hour-or-so later, Tarfside. It was strange to be here without a TGOer in sight; I fully expected someone to be checking up on us, but no-one. I met a lone cyclist who had just come from Montrose in a couple of hours. He zoomed past me on his return.
I don't like road walking. My plan was to be north of the road for a while, then cross over both road and river and walk on the south side, crossing back to reach my destination at The Burn. I knew however that there this was potentially a long day – around 30km, and seeing that I was ticking them off 11 or 12 minute intervals I was reluctant to increase distance and reduce speed by going off-road.
The road is quiet – it leads only to the upper Esk valley – and it becomes a feature to 'halloa' cyclists as they head up the valley and again an hour or so later as they come back. I planned to cross the river near Millden Lodge – there is a bridge on the estate and another slightly further upstream. In any event I missed the latter, and Millden Estate was posted with plaintive notices "this is a family home please respect our privacy", "bridge closed". Much of this road is fenced on both sides and there are few temping places to stop for a picnic or brew.
A short distance from the my destination I come across my 2nd TGOer of the day – Derek. He is on his 10th crossing and will follow me to the Burn to camp on the lawn.
I'd been planning to stop at The Burn for several years. At last, after many emails and changed booking I could see the place! The long driveway serves to heighten last-minute anticipation, leading to welcoming chalk-board sign for TGOers and the familiar sight of Alvar and Anne in a campervan by the entrance to the house. Out of their van appears TGO Management in the form of Sue.
I am shown a fine room with windows overlooking the lawn where one or two tents were beginning to appear. Next door was a separate large bathroom just for my personal use. A little later Anna appeared and, gradually the table under the gazebo became surrounded by TGOers swapping stories.
The accommodation felt luxurious after two weeks on the trail and it was a shame to leave after one night. The public rooms were all empty of people – only TGOers were staying at this time – but many had books and games and pianos and were comfortably appointed with sofas and armchairs.
We were about 12 at the table for a dinner of asparagus soup followed by chicken with haggis. A similar number attended breakfast the following morning.
Somehow the campers got away first. I was the last.
The route over North Water Bridge is the natural way to go. I stopped briefly looking for salmon in the stream, then headed around the corner for the road towards Hillside. There, sprawled out on the grass, were 10 of the TGOers from The Burn. They were having fun and would explore here and there on the way to Montrose, visiting a strawberry farm and stopping for cream teas.
I, on the other hand, was on a mission to put the tarmac behind me. After exchanging greetings I headed on to Hillside, finding the minor road towards Montrose that I had missed on previous crossings.
By 3pm I was on the beach. It was busier than in May, but still plenty of room for everyone!
Check-in at the Park Hotel was different this year. With Covid protocol in place the celebrations were more muted with less people. The weather was fine which was just as well with the main gathering in the garden where several challengers were given their 10 times trophies. A dinner was still on offer, but with tables for four spaced around the room.