The Duke of Gordon Hotel is not an obvious choice for an overnight stay. My original plan was to pick up a resupply parcel and camp; but I needed gas too. TGOC management were able to arrange delivery of a canister to the hotel. So this worked well for me.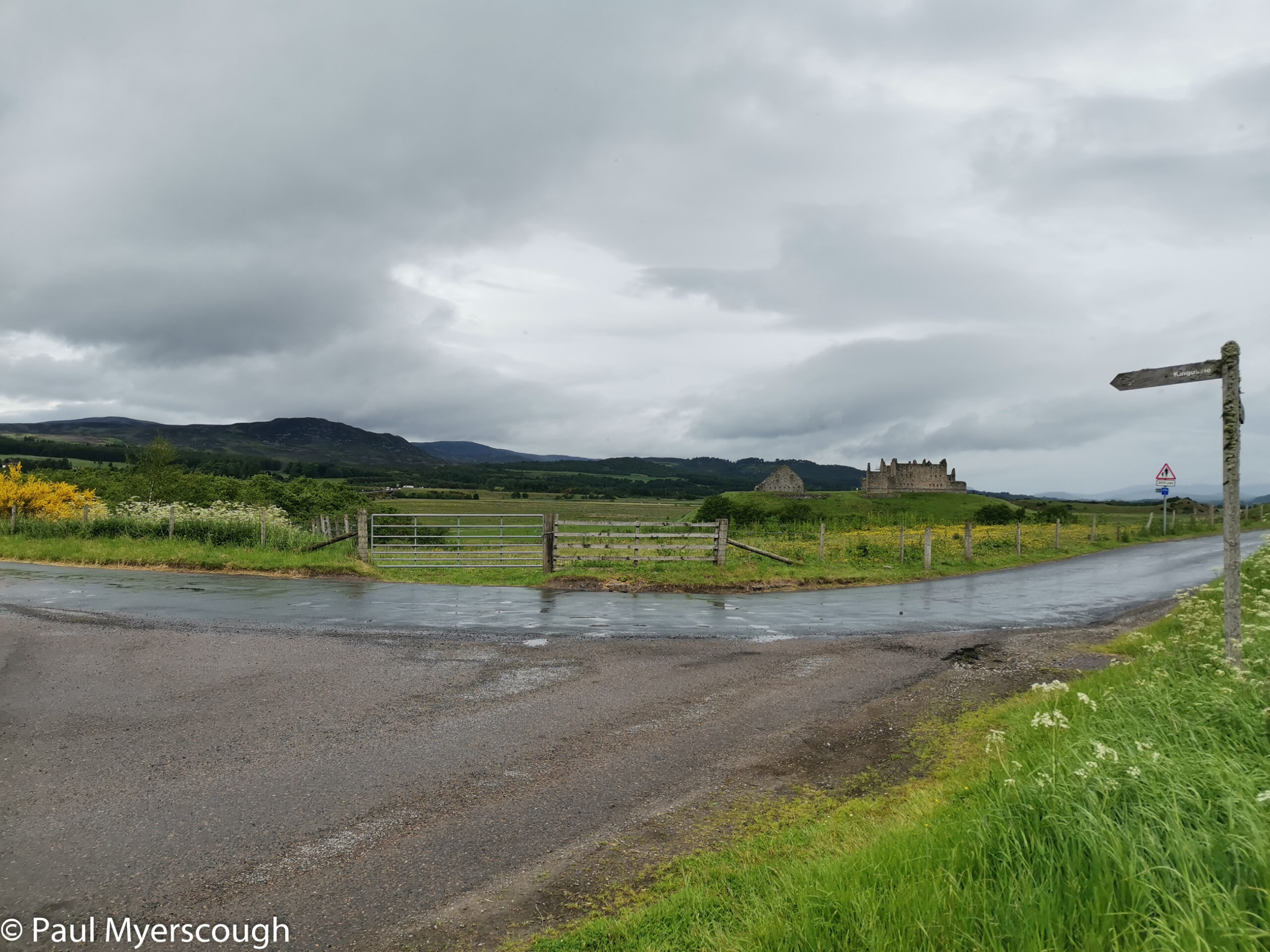 As I approached the hotel at Kingussie it started to rain, and continued for most of the night.
A couple of coaches were parked outside. Later the dining room was jammed full of nervous people who had just been released from a Covid lockdown. All were wearing masks when standing and following the one-way systems around the public areas of the hotel. Food resembled school dinners. It was served very fast, and was reasonably priced.
The local Coop was available until late to supplement the contents of my parcel of supplies. A quiet room with a working radiator meant a good night with almost dry washing by the morning.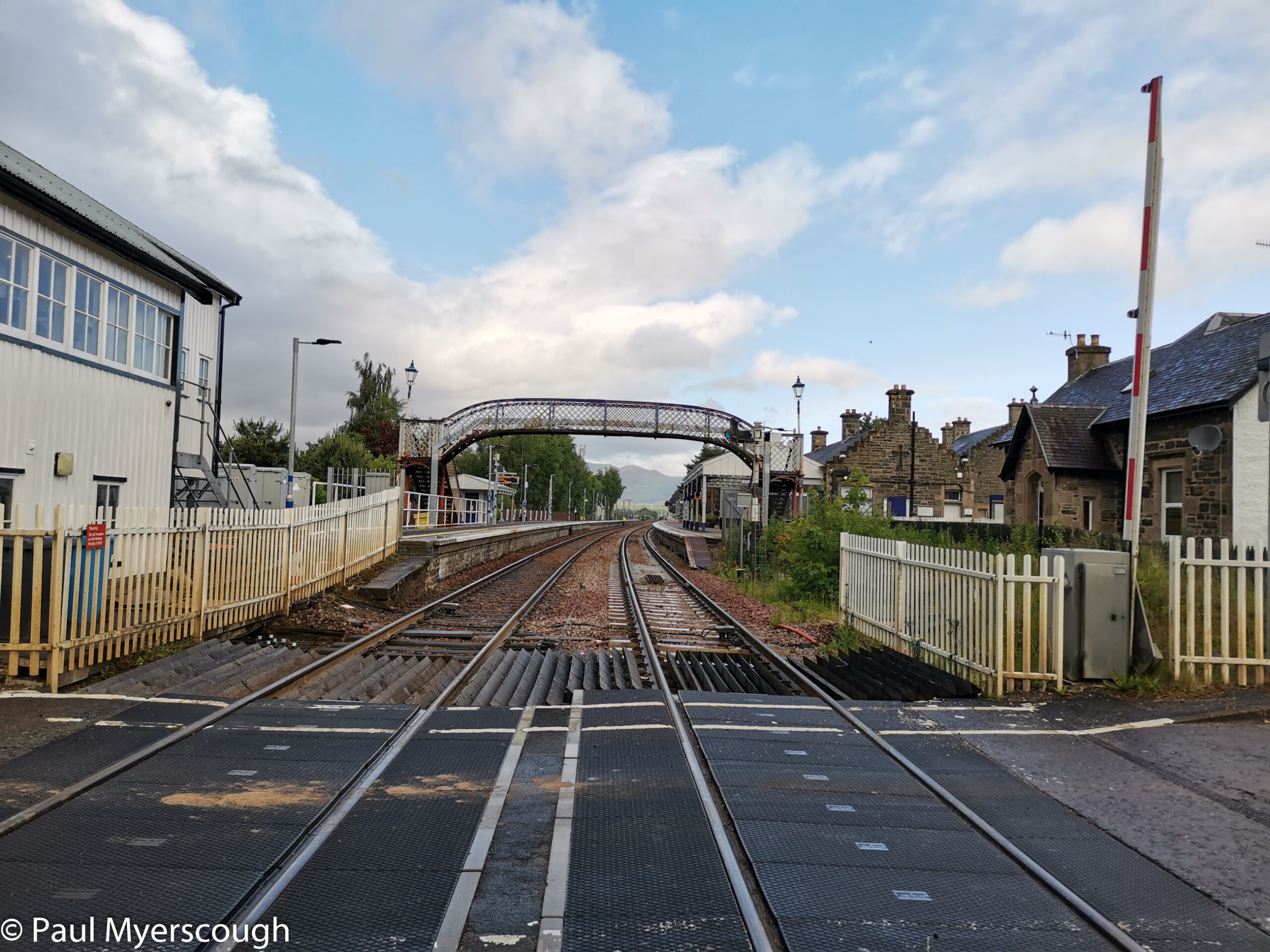 There were patches of blue sky when I headed off in the morning, back on the road across the railway and the river Spey to Ruthven where I found TGOer Darren taking pictures. He complained of sciatica problems and sent me on ahead!
There's a trail and nature reserve here at Invertromie which makes a pleasant diversion away from the road. An isolated graveyard adds interest!
Once across Tromie bridge the track that runs in parallel to the main road leads from one well-maintained home to another. Drumguish, Inveruglass, Insh, none of them seem like working communities but the route is quiet and pleasant. The forest trails that lead from here to Feshiebridge and beyond all look the same, bounded by endless pine trees.
The path leading to Drake's bothy is indicated by a big cairn beside the forest road and the change to the eye and to the feet is very welcome.
Drake's bothy (or hide) is an attractive small wooden building in a leafy glade. The door is has a poster explaining Covid protocol for the accommodation. It is deserted this evening, but even so I prefer to camp nearby. The weather prospects look better for tomorrow when I plan to head upwards to the Cairngorm plateau.
No-one had joined me during the night and I set off alone through the wet undergrowth on my way upwards. I'd learnt me lesson some days earlier and although it wasn't raining I put on my waterproof trousers and avoided wet feet. The cloud was still low, and mist enveloped the plateau when I broke through above the tree line.
I first headed north to investigate the 'Argyll Stone', before doubling back south and parallel to Gleann Eanaich with the route of one of my earlier challenges.
The cloud gradually cleared at this level, but the hoped-for views below to the glen and Loch Eanaich were denied me. The map shows rugged cliffs to the east of this ridge and wide rounded contours the west. The tops reaching to Sgor Gaoith at 1118m are not very dramatic.
I was soon bumping into day walkers, many from the Aviemore area.
The grassy sloping plains and well defined paths seem unfittingly tame for the 'Cairgorms' label. It is clear though that navigation here in poor weather – mist and snow – would not always be easy. Even today with a mostly clear view of the immediate surroundings a GPS was valuable to confirm how far I'd travelled on my planned route.
Tom Dubh is an unremarkable hill but it is right in the middle of the plateau which makes it a feature on any walks that pass nearby. Someone I met in Kingussie was 'going to camp by Tom Dubh' and I, for the third time, was going to navigate around it. There is no path just here. Which round shape is actually Tom Dubh? And which is just a supporting neighbour?
It was interested to see camping possibilities around here; I'd not thought of this before. My ambitions however were set on a place some distance away and I continued on my pathless trek down towards Glen Geusachan.
There was a very short walk planned to reach the next day's overnight spot. Maybe I could go the extra 6 or 7 km to Luibeg burn and stay there two nights instead? This would save a couple of hours required for making and breaking camp in Glen Guesachan.
The cross-country walking here was less arduous than I'd experience further west and once I had waded across the River Dee, Luibeg was in my sights. With a little difficulty I managed to find the camping spot that I had used some years earlier.
Around 8:30pm I was joined by two walkers who'd come over from Aviemore. They fought clouds of midges as they pitched their tents.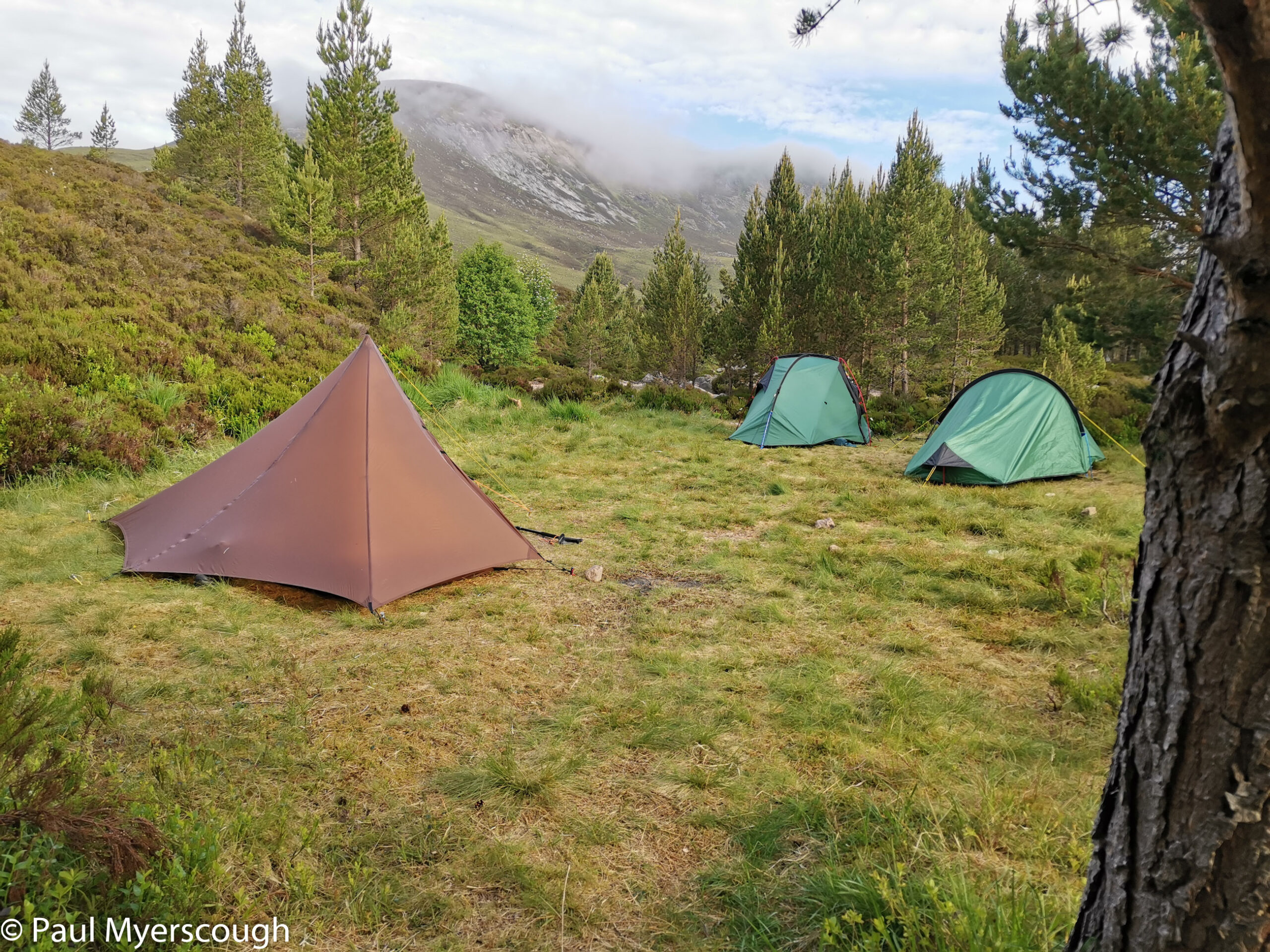 The next day was arranged as a bit of 'slack' in the trip in case I got behind schedule. One of the joys of passing through the Cairngorms on the TGOC is that any spare time can be used in visiting the nearby high peaks. I had my sights set on Ben McDui.
Walking light and easy without tent or sleeping gear or food makes a pleasant change. With my 8am start I had a fine path to myself all the way up to the stony higher levels. Here it was quite a surprise to see activity in every direction – dogs and people, runners, children – the top was very busy.
The views from here are fine in every direction, but most interesting is from the edge above the Lairig Ghru. A long rift dividing the high Cairngorm plateau in two, this is popular with TGOers as a through-route from the North. The far, western, side is where I had been the day before and I could see the outflow of Glen Geusachan with Devil's Point and Carn Toul nearby towering above the speck that was Corrour bothy.
The route down was rocky and tortuous at first, then it became a made path. Here I found a young couple busy shifting giant stones around and building steps. This was their work. It was a 3 month job repairing some of the path on this hill which had become worn and wide. Then they were off to do something similar in the Torridon area.
At 3pm I was back at the tent, ready to move on. It took one cuppa for me to decide to stay put. There is no better camping spot further down the valley, so relax! Enjoy some extra recovery time! I could dry some of my damp clothes in the remaining sunshine and have a meal before the midges come out.
An early start got me through Derry Lodge and on to the Mar Lodge estate for breakfast at 9:30, and to Braemar soon after 11. And not a TGOer in sight!