This in part follows from an earlier discussion about WordPress vs Blogger.
This article was created in WordPress, and exported. Blogger could not import the file until it had been processed by WordPress2Blogger.com. My early conclusion is that Blogger may be safer and more flexible:- as you can see below the picture captions did not seem to work and some of the images got trimmed in the display. I did not have the same problem sending the information the other way.
Anyway Marseilles is a worthwhile for a trip!

A long weekend for some autumn warmth in South Europe
A first experience of Ryanair with a price for two that escalates from £80 to £160 once the non-optional extras are added (like on-line check in, card payment administration) and a couple of optional ones like one small suitcase and speedy boarding.
And then a new city experience in France. Marseilles is near a lot of places we know of, but why not start at the centre and work outwards? We can travel there again if this trip works out.
Actually this is not quite the best time to come to France. On Saturday city centre transport came to a halt as many 1000s of people took to the streets.
And every day of our visit the streets were full of garbage.
Practical stuff:-
Ryanair with a few other cheapo airlines travels to a shed at one end of the airport called 'MP2'. Actually it is only a short walk to the main terminal. A little past this and you connect with the express bus to the town centre Station St Charles at €8.50 for the 20-30 minute journey. There is a train ticket available too, at the same price, but that journey starts with a shuttle bus to a station a couple of km away.
We walked down to the tourist office at Vieux Port to pick-up a street map and a brochure and a newspaper with a what's on guide. Not much else on offer there! For a transport map go down the metro and ask in the Accueil office – none were available when we asked.
We had already reserved in IBIS Euromediterranee http://www.accorhotels.com/gb/hotel-6190-ibis-marseille-euromediterranee/location.shtml with an offer of 3 nights at €50. Quite comfortable, with friendly service and a breakfast to our taste at €7.50 [but not the dinner which was served super fast, but tasted unworthy of a restaurant table]. Easy to reach with a 20 minute walk or a tram ride from the centre. There's no wonderful view from the window or busy local bars just outside – for that you must pay more, probably have less comfort, and be in the Vieux Port area.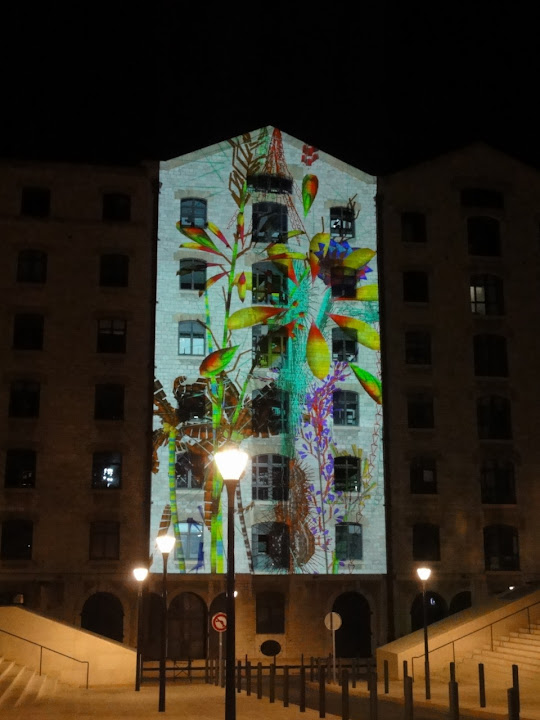 The city transport is quite convenient, with an integrated ticket system. A one trip ticket costs €1.50, lasts 1 hour and you can move from metro, to bus, to tram. A day ticket costs €5. I do need a map to fully enjoy this scheme, fortunately I had printed off the PDF file before I left home.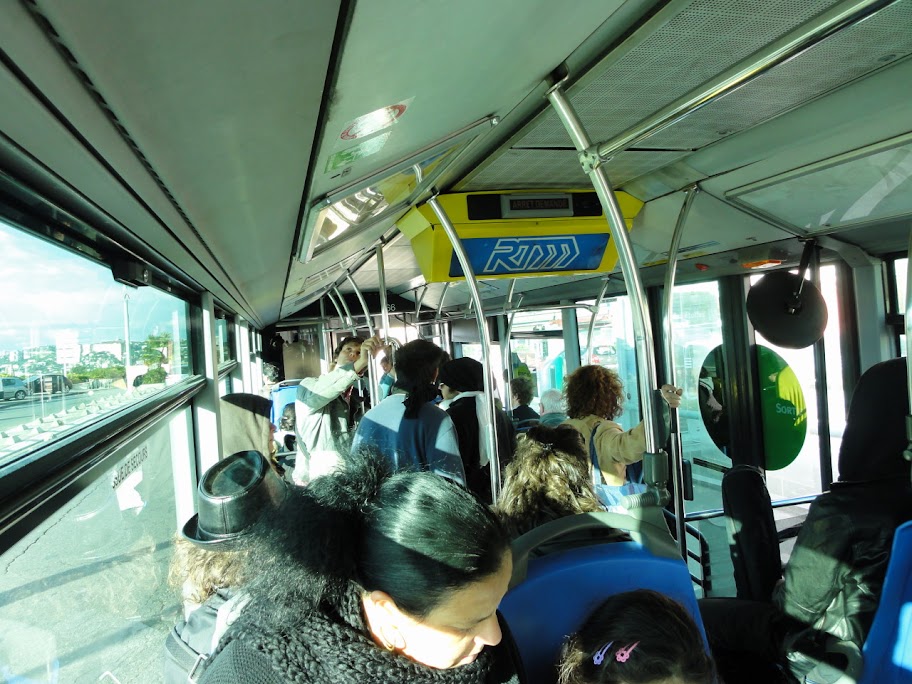 The tourist sites are interesting but not spectacular and are described by the tourist office guide. Here's a few …
Away from the main business of the city and next to the sea you find the Cathedral. From the outside it looks rather forlorn.
Inside it is well cared for, but and not so ancient.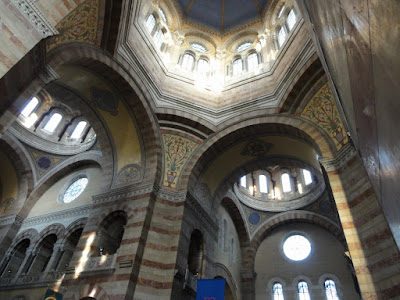 It is quite close the port and around the corner overlooking the harbour is the very charming and much older church of St Laurent.
Vielle Charite in the old town area of Panier above the harbour is an impressive monument which was built originally to house the poor of the city. Conceived in 1622, the building was finished in 1749. Since then has had various uses for the poor and dispossessed before becoming a barracks for members of the French Foreign Legion. After a period of closure it is now restored and part is used by a couple of museums.
From many parts of the city the vista includes the hill with Notre-Dame-de-la-Garde looking over the eastern side of the old town. A 20 minute uphill walk from the harbour brings you to the most popular tourist sight in the town. Crowds admire the view over the city, and the interior of the highly decorated church from 1864.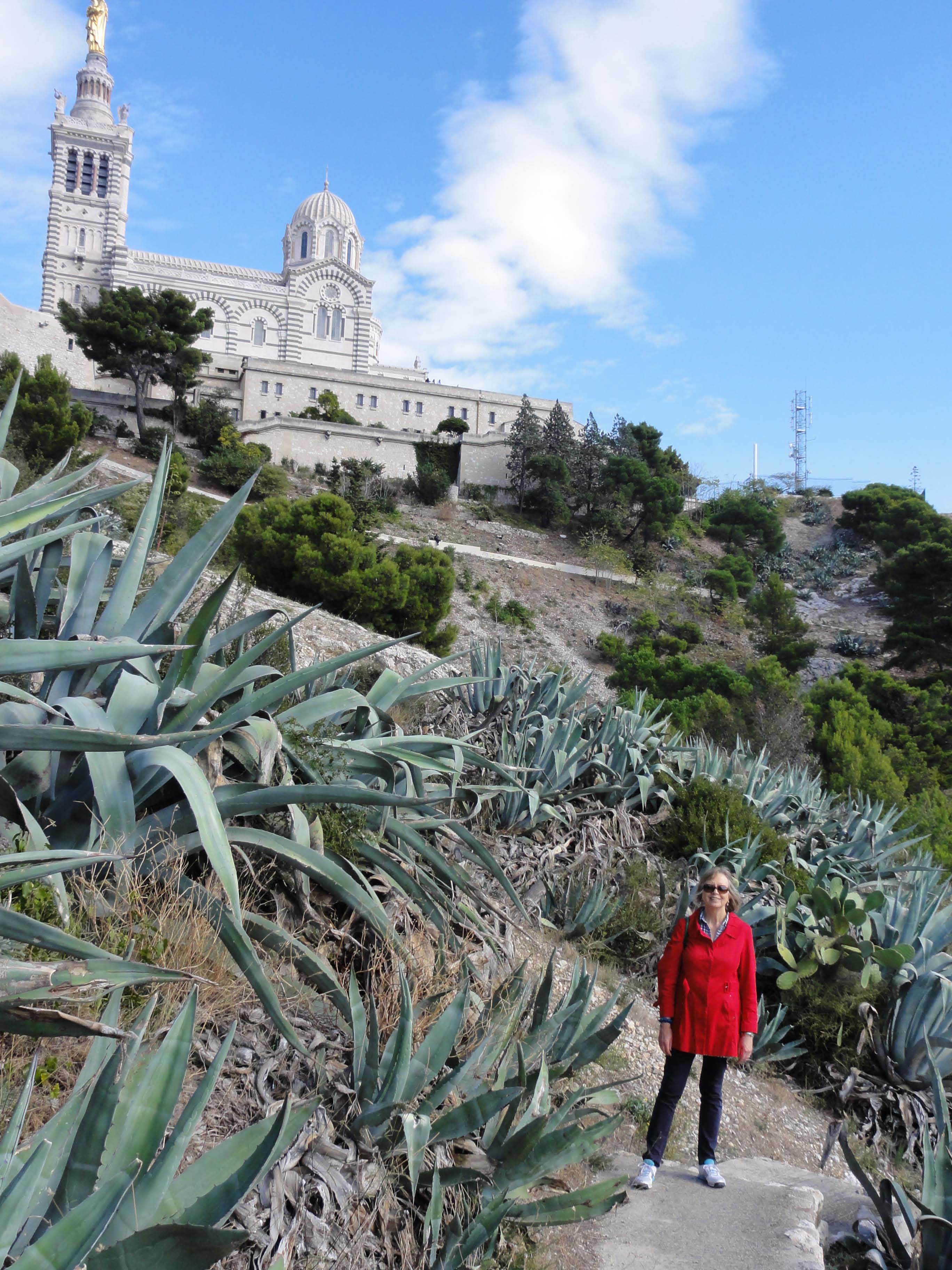 While interesting, it was hard to classify any of the sights as stunning. A city pass with free museum access would have made us work harder, but we gave this discount card a miss because the star attraction – a boat tour to the prison island out beyond the harbour – was stopped for a couple of months (you were offered a bar of soap instead!).
At the end of the first day we rested on a bus that took us westwards to a 'village' called L'Estaque where Cezanne had lived for some years and established something of an artists colony. We followed a trail around the houses and down to the shore – where we saw no beach just many small boats tied up for the winter. This is really part of the greater city conurbation and difficult to recognise as a tourist attraction. If you are familiar with Cezanne's multiple pictures of one crag with many different colourings and lighting – it is easy to imagine this is it – high above the shoreline beyond the last of the houses and roads.

We found a journey eastwards more rewarding. Taking bus 21 from near the old port all the way to Lumigny, we arrived by an outpost of the university, completely out of the town and high above the sea. A range of trails head off to viewpoints and along the coast renowned here for its high white cliffs and the deep blue inlets known as Calanques.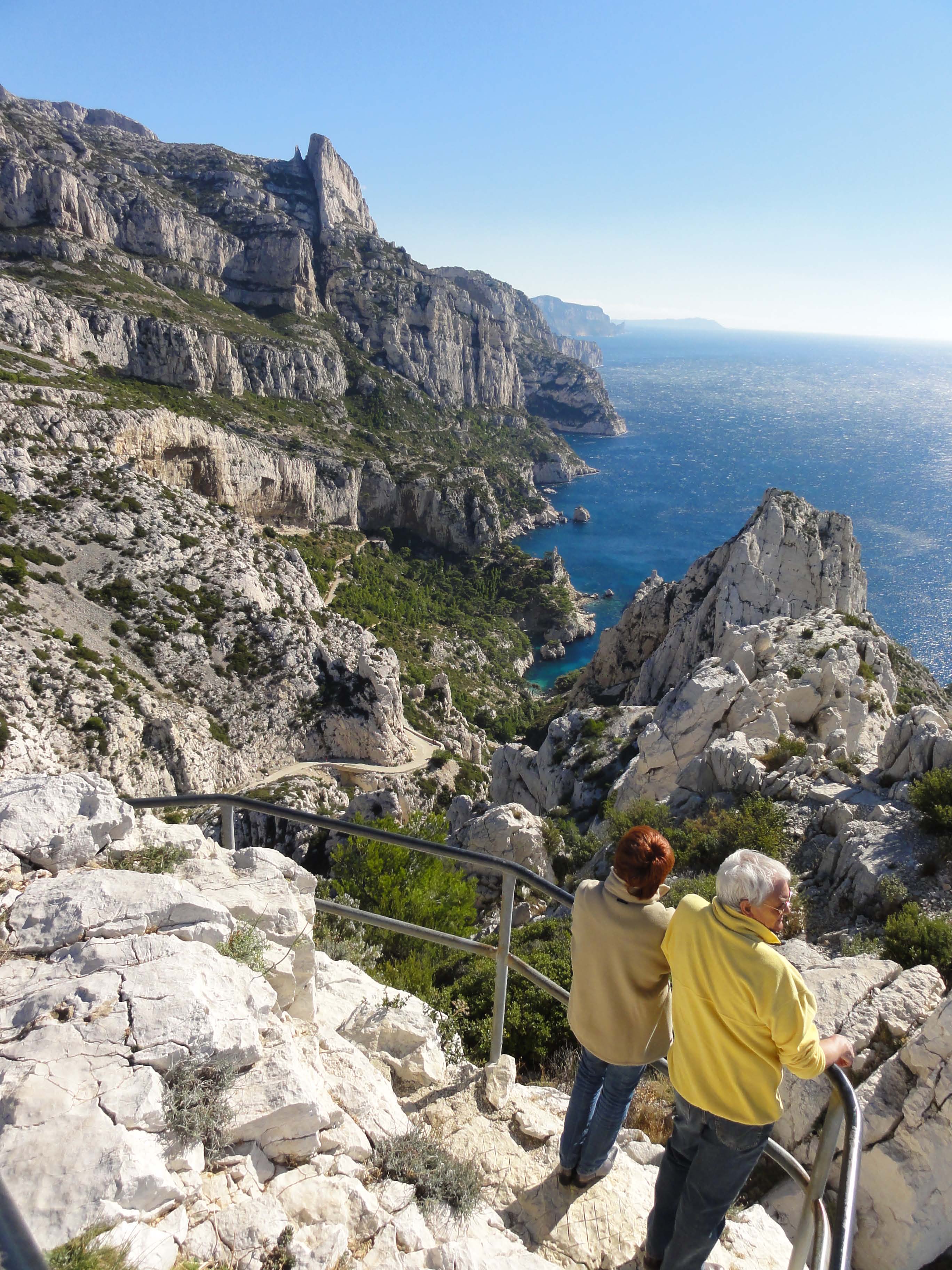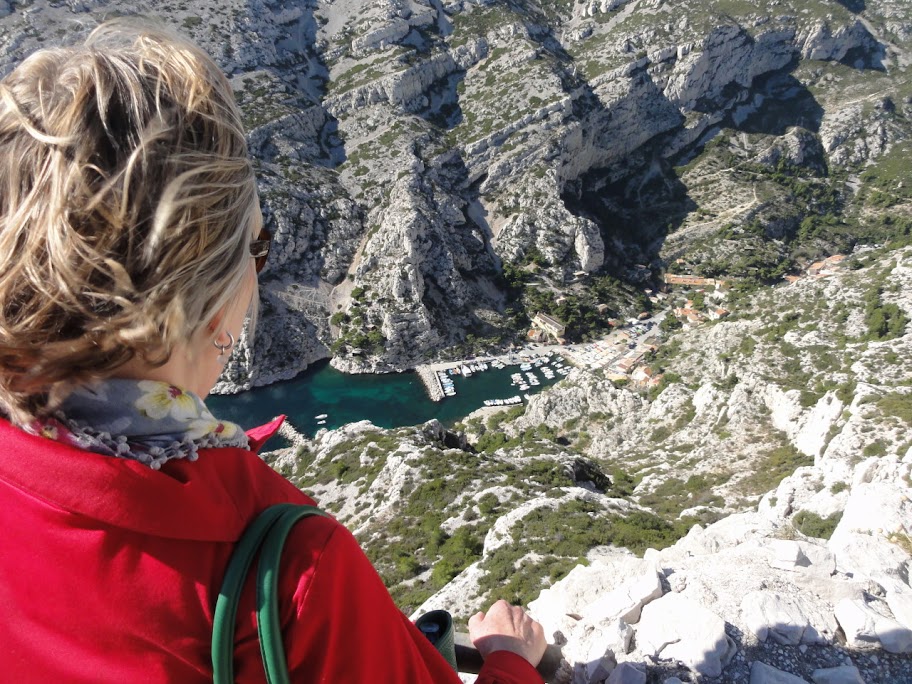 After a 30 minute walk we could see a tiny harbour down below. An hour or so later we had worked our way down to join the lunch crowd. Despite the bright sun the temperature was quite cold and most were eating in doors.
We managed to join up with another bus route further round the coast at Les Baumettes. Right on the edge of the Marseilles conurbation, this area was characterised by many small groups of houses or apartments with electronic gates guarding the small streets that gave access and car parking.
Also here was a very long wall with surprising figures embedded high up above the pavement. They had titles like "L'ENVIE", "L'AVARICE", "LA COLERE". At a certain point we found an enourmous steel door – then we realised this was a prison.
Each morning there is some fish on offer at the harbour …
Marseilles is the home of bouillebaisse so I was looking forward to some great tasting and good value local fish cooked in this style. Unfortunately not this time. Research lead me to a few recommended restaurant – but quite expensive with prices in excess of 60 euros per person.
We had a couple of excellent dinners though. A menu of 29 euro at Table D'Olivier in Rue de Mazanod not far from our hotel (near Joliette). The final bill was a little over 100 euros for two including wine and water and tea as well as three delicious courses.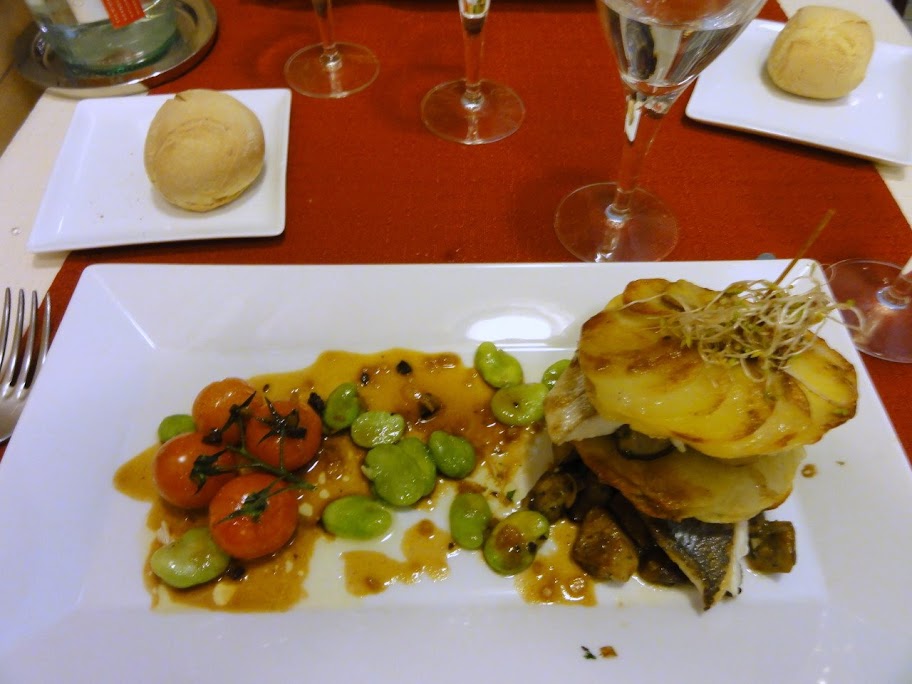 Our second dinner was in a small restaurant by the old port. In Rue Casserie this place was more informal with limited choice but we enjoyed a delicious fish soup with rouilles and croutons, followed by pasta with beef and rice with sea food. All for around 60 euros for two person.
A foody institution in Marseilles is the 3 floors of seafood restaurant & shop called Toitou. Here are a whole range of Oysters different grades from different places. And a range of other shellfish and crustacians. New for me were 'violets' unfortunately not noticed before we had to rush off to the airport after a late morning snack..