What will set the limit? i) Two months after an arthroscopy, will it be the knee?, or ii) With no long walking for many months will (un)fitness by my undoing? or iii) as we approach the shortest day of the year will the number of hours of daylight?
The route starts at Caversham Bridge in Reading and follows the Thames upstream west and northwards to just before Wallingford, then eastwards on the Ridgeway until Nuffield before heading south through woodland and across fields back towards the Thames and the start.
It is designed so that it can be shortened by reducing the circuit, or by cutting it short and picking up a bus which travels regularly along the diagonal red road the A4074 back to Reading.
Sunrise happens soon after 8am at this time of year, and this is a good time to start out.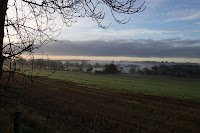 Dawn mists over the Thames
Not sheep on the hill! (click to enlarge)
The Thames Path switches from one side of the river to the other. From Reading to Whitchurch it follows the south bank, but the north side is more pleasant. The paths are a little distance from the river, but the old village of Mapledurham and the llamas of Boze Down more than compensate for this!
on the Chalk cliffs between Whitchurch and Goring
| | | | | | | |
| --- | --- | --- | --- | --- | --- | --- |
| | | | | | | |
| | | | | | | Just before Goring the path is joined by Great Western Trains |
The path finally reaches the river just before Goring and at the same time as the busy west bound railway line arrives over a brick bridge. With trains every 5 or 10 minutes their noise is a constant companion for the next hour or two until a much more impressive brick bridge takes the line back to the south.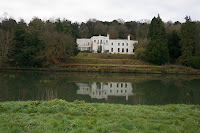 Look closely – this is a wreck!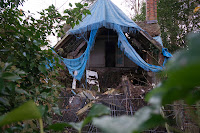 A more modest wreck!
There are some impressive properties overlooking the river. But also some that are not in such good condition. Beyond Goring the sliver of land between the railway and the water is divided into small 'leisure' plots, which look sad and uninviting on a winter's day.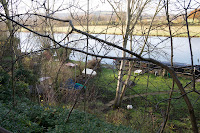 Plots sandwiched between the railway and the river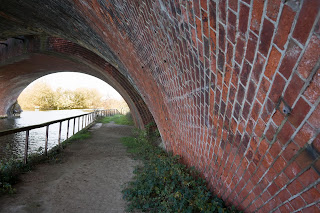 Rail bridge at South Stoke by Brunel 1834
After the prosperous village of South Stoke an impressive brick bridge moves the trains back to the other side of the river and the path becomes more rural, and quieter. A little further on is North Stoke with and impressive 13/14 century church with original wall paintings.