Frost arrived this weekend. And so did the best system for insulation.
The main route to a warmer greenhouse is using bubble wrap for insulation and a frost protection heater. What varies is the type of fixing for the bubble. In previous years I tried various plastic and metal clips designed to pierce the film and hold it in place, but now I've finally settled on the system recommended by the greenhouse manufacturer.
This uses a number of small brackets which fit under the existing nuts on the frame. The brackets are then threaded with wire which suspends the bubble-wrap and hold it in place.
Next spring the plastic will be removed and stored for reuse, while the wires will remain in place and can be used later in the summer to hold material for shading against direct sun.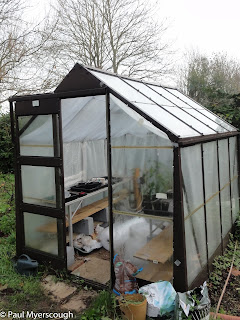 Double-bubbled for insulation
It is hard to imagine a single layer of bubble-wrap being very effective, so we doubled it over with the two bubble surfaces facing each other and the smoother surface on the outside. While the whole greenhouse is insulated, there is always the option to making a curtain across the middle creating a warmer tent in the part where the heater is installed.
The greenhouse shown used 3 x 30 metre rolls of 75cm wide bubble-wrap. Sourced from Homebase.