The outdoors is an integral part of life for most Norwegians. A sparse population and some dramatic and accessible countryside means that many spend at least some of their free time hiking or skiing or hunting or just hanging out in the wild. There is a mountain hut in most families for indulging this passion.
Norway arrived in the 20th century as the poorest country in Europe; it arrived in the 21st century as the richest. From the early days of oil wealth it embraced a policy of cautious welcome to those in need from abroad. In the 1980s they offered free language classes to all-comers. My best friend from my Norwegian class was a lady from Sri Lanki, a nurse who wanted to do healthcare training in the UK. She found obstacles placed in her path there which did not exist in Norway.
30 years later they understand that free language classes is not enough to support incomers and a broader introduction to Norwegian culture is desirable.
The Norwegian Red Cross has some responsibility for the welfare of refugees. They run a program of mentoring – assigning local volunteers to support individuals and families with national cultural matters. They have also got together with the 'Directorate of Integration and Diversity (IMDi'), and DNT – The Norwegian (Walking) Tourist Association to run an annual event, called Til topps ("To the top"). This is designed to help promote integration work among asylum seekers, settled refugees and other immigrants living in Norway.
Last year more than 1400 people joined for two days and topped out on the snowy peak of Norway's highest mountain Galdhøpiggen. This year's event starts on the 30th June.
In fact it starts many weeks before then as newcomers to mountain walking start training and acquiring the necessary equipment – waterproofs and footwear – to go out in the wild.
Last week I joined a training walk in Baerum, south of Oslo. The local DNT walking group augmented their program with a number of training walks for incomers. To join the Galdhøpiggen trip it was necessary to attend at least two training sessions and this was almost the last chance for those interested to meet this requirement.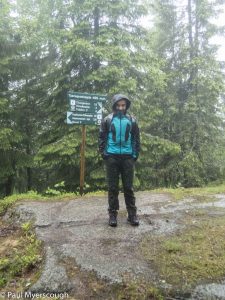 The high point – top of Tjaeregrashogda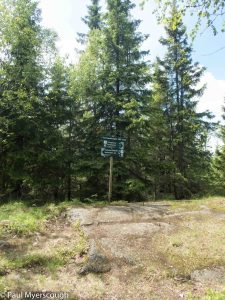 It doesn't always rain! Same spot, next day.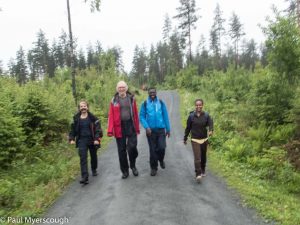 Spot the Norwegian!
The next day I set out alone from a different direction arriving at the same area – this time in bright sunshine!
Utsikt means view …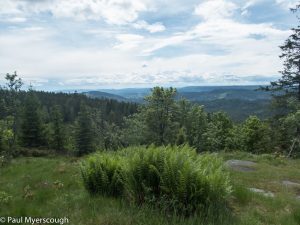 .. and here it is!