One of the joys or challenges of outdoor life in Norway is the Utedo. A long plank of wood with a number of circular holes suspended over a pit in the ground, with a rudementary walls and a roof over. Socialising over a crap does not come naturally to this Englishman, and I was pleased that our host had a single set-up. What's more this had a toilet seat and plenty to look at. Although with temperatures of -10 deg C it is not so temping to linger.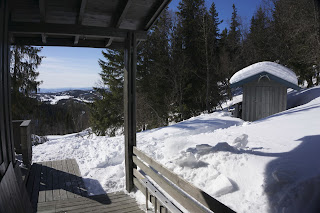 A cool crapper (headtorch recommended at night)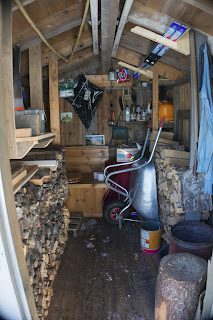 'Plenty to look at'! The delux seat can be seen behind the stacked firewood on the left
The Norwegian Hytte can be quite comfortable – but moving in supplies is a heavy task over metres of deep snow. A frozen spring means drinking water must be carried in, or created by boiling melted snow.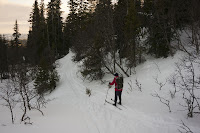 Skiing this way is like walking, only you travel faster and further (in theory) and so navigation and mapping is important. Kartapps have taken over the application norgeskart. This free app works with the GPS on an Android phone to provide good mapping. It will download a number of high resolution tiles and store them on an Android phone free of charge for a limited number of days.
This winter holiday has been a rare one in Norway with several continuous weeks of fine weather – sunshine and blue skies. Navigation by sight was easy and although we could test the GPS app, it was not really needed this time.
Which type of skis to use? And which binding? Not such a difficult choice for me as I only had one old pair of cross-country skis (blue in the picture). Once my left shoe separated from its sole on the first day, my choice was limited to whatever was left over. Different skis use different bindings which require different shoes, so first was to borrow a pair of shoes, then a ski which fitted. On my second day I borrowed a pair of Telemark skis (similar to the grey ones pictured, but with different bindings) – heavier and wider with metal edges and more control. It was and possible to go off piste with these on soft snow, but hard, hard work going up hill. On the following days I used thin light cross country skies (yellow in the picture) – hard to control and completely nerve-wracking on downhill stretches, and liable to burrow under any soft snow.
Wax is important to ensure the skis grip the snow. With reasonably constant temperatures and snow conditions one wax was all we needed. 'Kram' conditions when the snow is around zero and melts under pressure then refreezes was typical in the afternoons, and backward slipping was unavoidable even with renewed wax.
Our host's hut was at Tempelseter on the side of Norefjell, so we had two options to go slightly up and be above the tree line, or slightly down and ski on forest trails.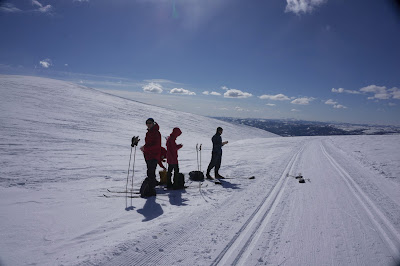 Mountain Ski trail on Norefjell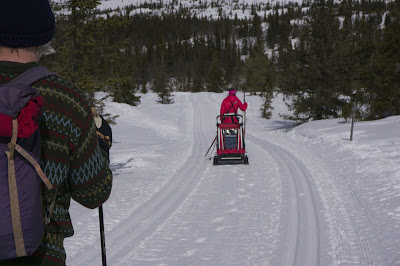 An athletic mum races uphill with her baby in tow on a forest trail
Easter is the most popular time for a trip to the mountains and Saturday and Sunday the trails were very busy where they converged on a hut selling hot blackcurrent toddy and waffles with cream and jam!
A shovel is advisable so it is possible to prepare a suitable lunch seat!
Later in the week is was possible to ski all day and only see one or two others.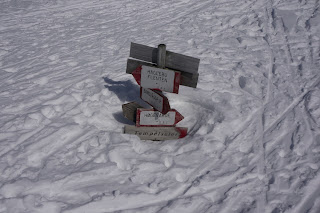 Sign for summer trails buried in snow
When the doors fail to close properly inside you know it is time to move some of the uneven weight off the roof!