Martha and Andrew were heading for Cannich, whereas I wanted to get up high now the weather was improving.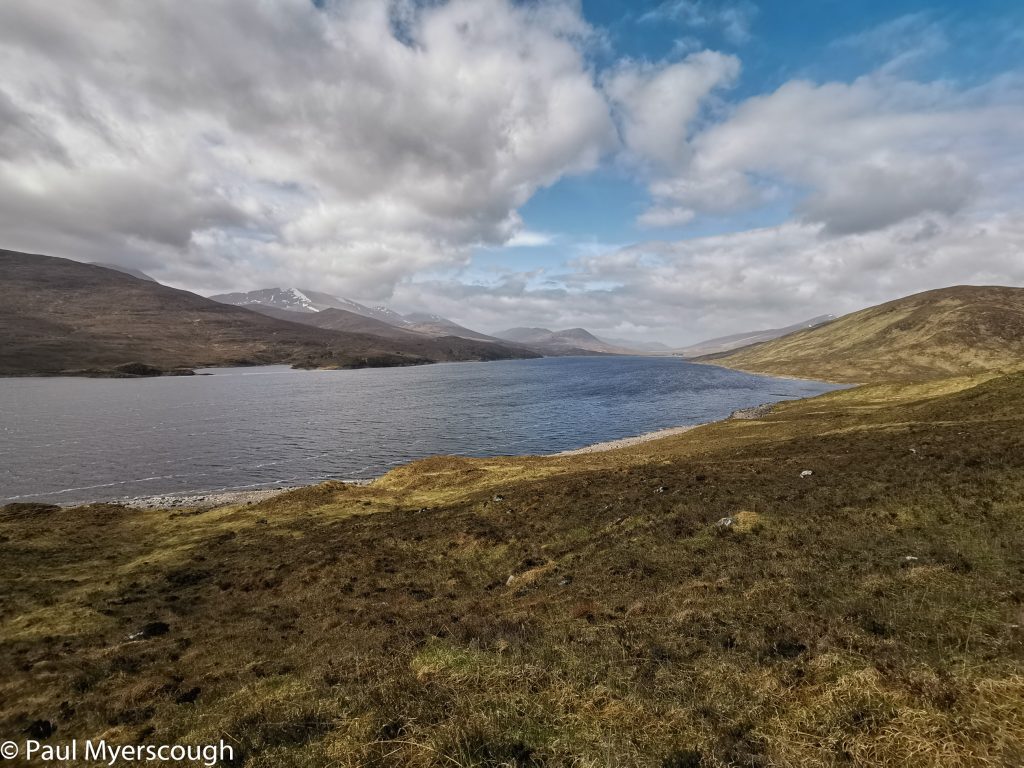 Download file for GPS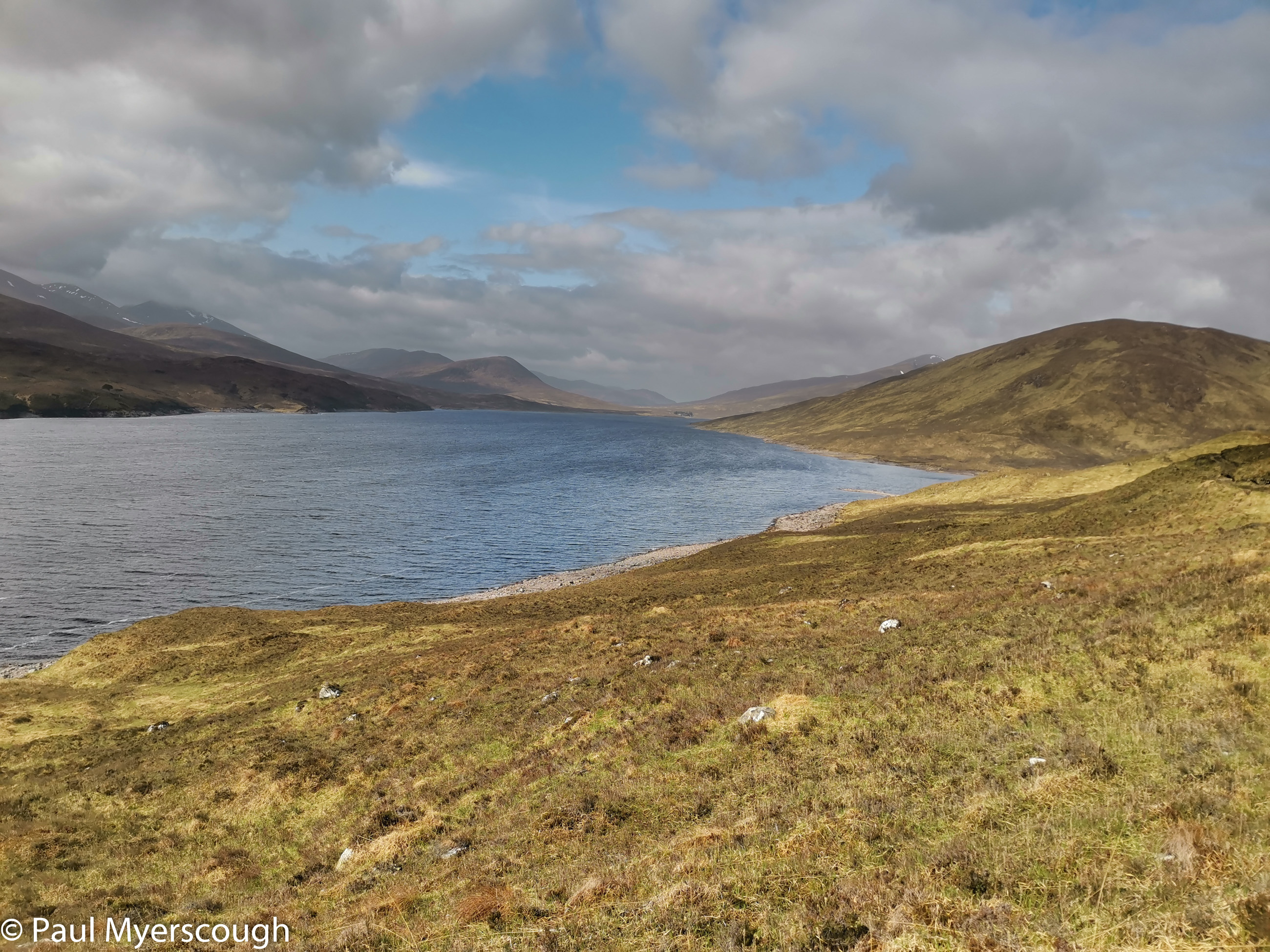 My route took me alongside the loch to Monar Lodge; then north on a made track, before veering off to the right up onto the ridge.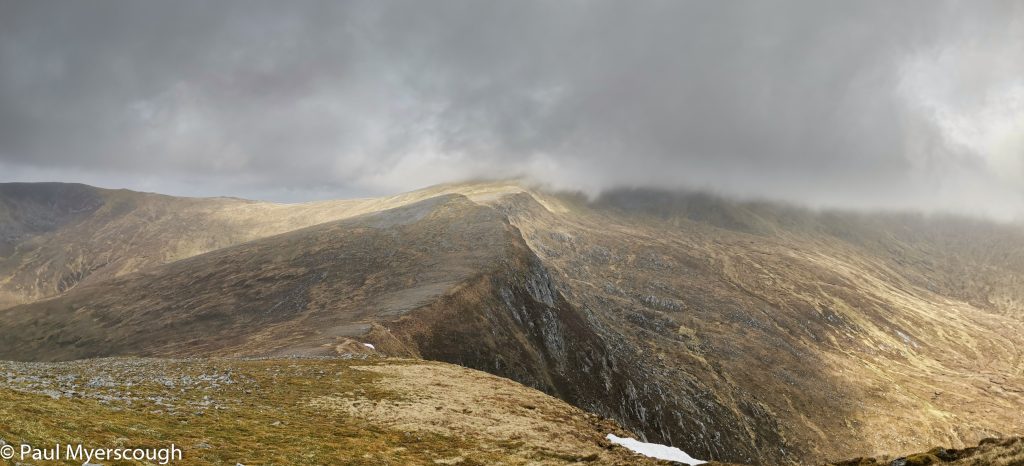 It is pathless here but the line is easy to follow. Through the swirling cloud just beyond the first high top Sgurr na Fearstaig (1051m) I spy a couple coming towards me. TGOers Dan and Andrea! They started in Plockton and I was to see them throughout the day as we traversed the same route to adjacent camping spots.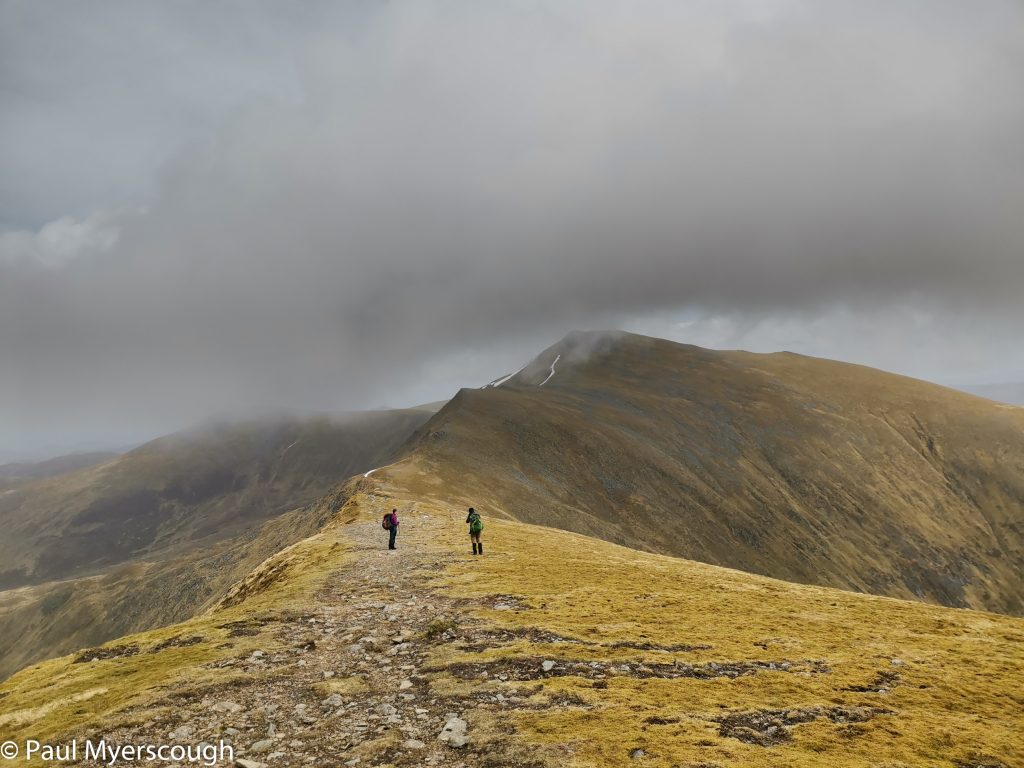 This was a fine ridge with good views in between the clouds. A steady cold wind with occasional gusts kept us on the move. Today was Saturday and a few groups of walkers crossed our path in the middle of the day.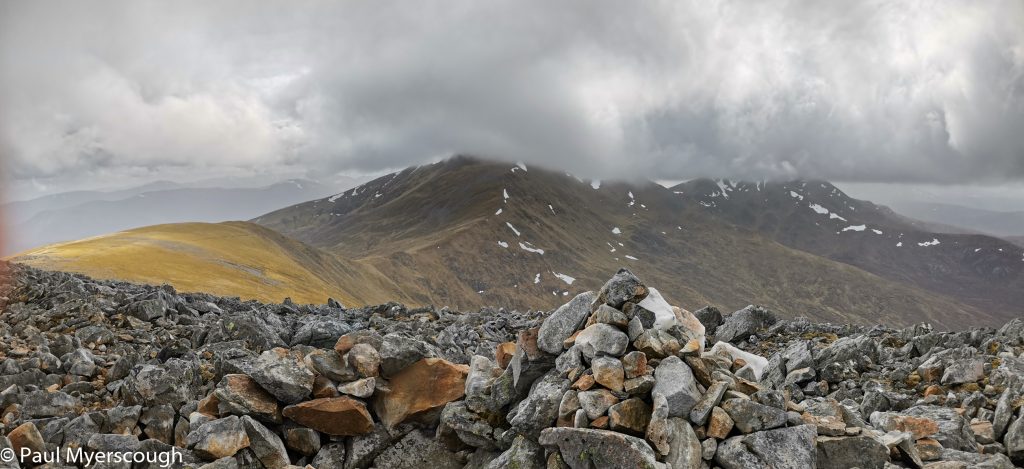 By late afternoon I was ready to rest, out of the wind and, hopefully, not far from my planned overnight spot between Carn nan Gobhar and Sgurr na Ruaidhe. From a satellite picture it is hard to be sure how even and dry the ground is. On this occasion I had spotted rather uneven grass, probably nibbled by deer, with a stream running underneath. A bit of shelter from the wind a few meters down the ridge, it was comfortable enough.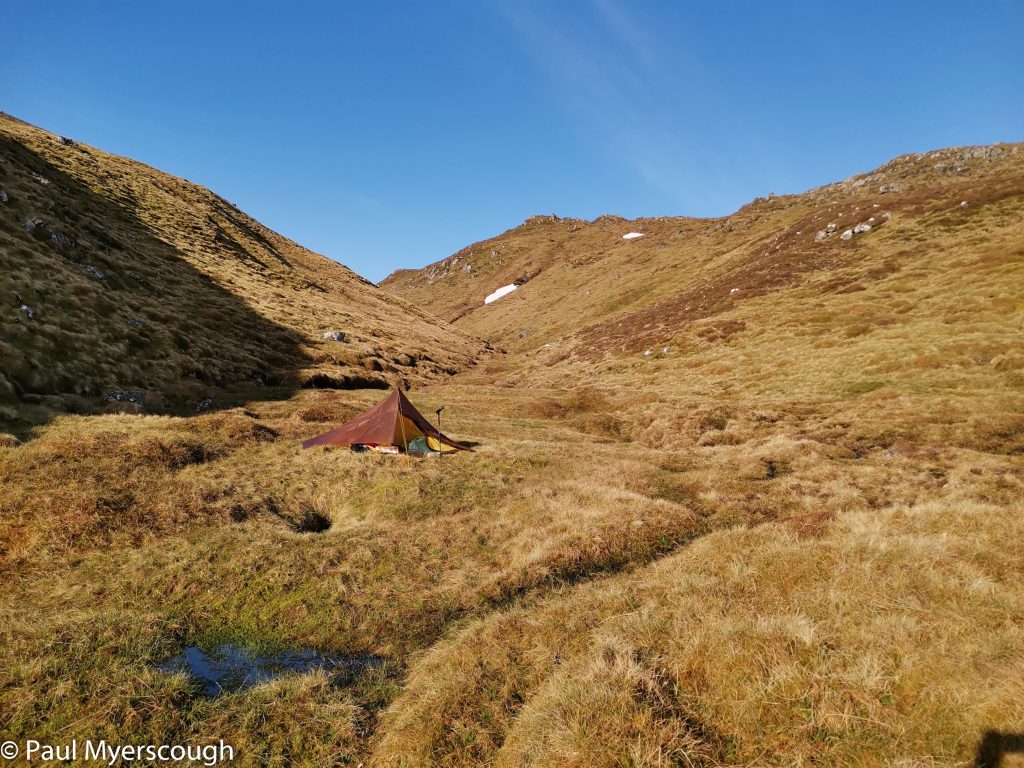 It was a cold night with a sunny start. I was immediately looking forward to my next night at Cnoch hotel and contrived to change my route a little to give a more direct trajectory there.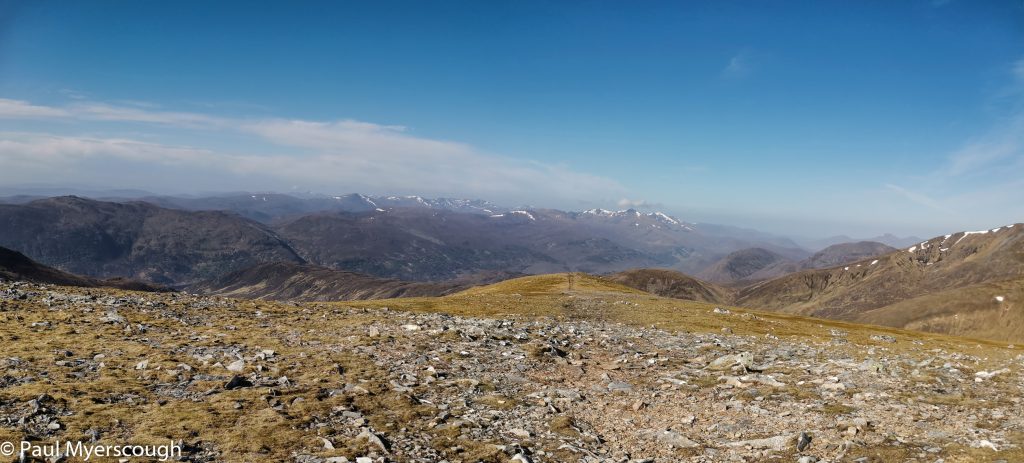 Download file for GPS
A bright morning brings the type of views that were planned for the first few days but were thwarted by poor weather. I was soon heading downwards and made a rare stop for a brew to enjoy the last moments on the ridge.
By midday I'd found a track to take me to the valley road. The barren hillside became rough-felled remains of a harvested plantation, and then birch forest. The change in fragrances as I descended was marked. First the clean, fresh, light smells from the trees, then the tarmac of the warming road, before the rich smell of cattle and farming.
The road in Glen Strathfarrar towards Monar Lodge has an unusual management process. Owners of property have a padlock on the chain which secures the gate. I counted 8 or 9 locks linking the chain segments together. Others, visitors, are checked-in at certain times at the gate, and are not allowed to overnight in the valley but must check-out again at certain times in the afternoon.
The road towards Struy Bridge was strewn with potatoes. There were too many and too regular for it to be accidental. I was later told that they were probably there as deer food.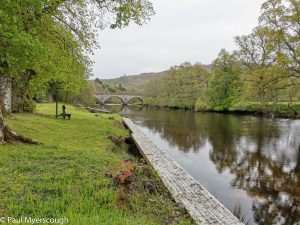 The river here flowed smooth and full and, although I am no fisherman, I began to think of trout. More especially a dinner of fried trout with a sour cream sauce. I began to mentally rehearse my arrival at the Cnoch Hotel and how I would attempt to reserve a trout for my dinner.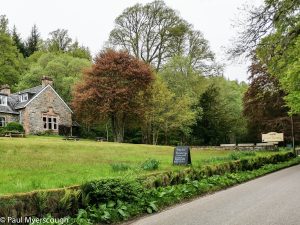 I arrived at the Hotel at around 2 in the afternoon giving me plenty of recovery time. Booking had been quite difficult as the ownership changed at the beginning of the year. If I couldn't book I would have to change my route so it was a great relief when the new owner finally confirmed my reservation.
Duncan was alone in the building when I arrived. He served me soup and toast and, very hospitable, proved responsive to my fantasy about a trout dinner. Fisherman guests had donated some fish for the freezer.
He is here to live his dream. He moved from south of England with his family, back to the area where he spent his childhood. With little or no experience of commercial hospitality he was full of enthusiasm and after a month or two of painting and decorating they had opened in April just one month before.
A few hours later Kate arrived. I'd left her camping by the river crossing a couple of days earlier; the next morning she had made a long diversion to the nearest bridge and spent an extra day on this part of her journey. It was good to discuss the next step involving the crossing of Loch Ness with her. Fortunately she was also happy to eat trout.