A couple of days earlier I was with the famous TGOer Andrew Walker who quoted an even more famous (now deceased) TGOer Andy Howell regarding my day 5 plan as 'the armpit of all TGO routes' or some similar discouraging remark. I'd planned a line towards Drumnadrochit with pathless stretches joining one or two tracks. My vetter had said of the area 'the heather was very vigorous' and 'the heather on the way to Loch Bruicheach was even deeper'. I don't mind a challenge, but there was a deadline to catch the boat across Loch Ness that day, so I welcomed the opportunity to talk the plan over with Kate who had come this way the year before.
Download file for GPS
In fact she had a poignant tale to tell. The previous year, with some challenges on the route she communicated with the boat owner that she might be a few minutes late. As she approached the pier she could see the boat drawing level with the landmark Strone Point on its way out; she suspected it had left early even though she was expected. Shorty after a bus came along the road on its way to Inverness. She jumped on, and that was the end of her TGO 2021!
Kate's plan was a repeat of last year and took a more southerly route, on road and track, much of it following the Kintail Way. This was a safer option for managing the timing to the boat and it didn't take long for me to decide to join her.
With an 8:30 start and a few hours of rain the undramatic countryside passed in a bit of a blur as we exchanged information about common and uncommon interests. Kate was on autopilot and I never needed to consult the map. We arrived at Drumnadrochit at 4, just too late for the tea room at the Post Office, but in time for a cuppa and some cake with other challengers in the Deli opposite.
It looked like there might be more than one 10-person boat-load of people, so we soon headed off to the pier hoping to be on the first trip. We counted ourselves on passengers number 9 and 10!
Some acquaintances were renewed on the journey. Kate went to her B&B at the bottom of the hill while I followed the crowd up to Janet Sutherland's at Ault na Ghor.
It was a full house that night for a dinner of salmon and vegetables followed by a mixed fruit crumble for dessert. We were encouraged to sit around a fire afterwards, but some us needed to repack with food goodies sent here for collection, and then just rest. Surrounded by trees it is a noisy dusk as day birds come down to roost and night birds start calling. The morning starts early with birds again and then Janet's husband on bagpipes encourages guests in to breakfast.
Download file for GPS
I was one of the first away, heading towards Glen Mazeran.
The Monaliadth presents a barrier across the middle of many TGOC routes. Brown hills, peat hags, wind farms and abandoned lodges – it is a different environment. Some corners provide interest, but much of the traverse is on roads for maintenance and construction traffic, and the hills are rounded and mostly look the same.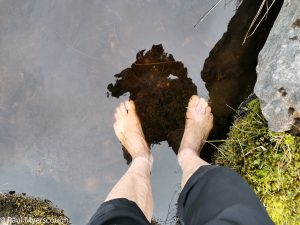 I was following a track eastwards, before heading round a large windfarm and then navigating up a stream bed to the top of the wide ridge. The watershed is undramatic and relatively featureless, so a compass bearing is the best way to find the route down the other side. For the first time on this crossing I remembered about foot bathing – one tgo-er advocates doing this several times a day on long walks!

I'd identified a spot just short of the Lodge for camping, but on the ground it looked less inviting than on the map. I'd heard that there's a better place near the river in the valley bottom, so I carried on a little further but probably went past the recommended spot. I eventually pitched my tent by the bridge at Dalmigavie Lodge.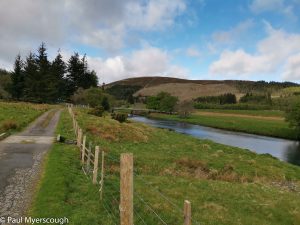 The next morning I set off along the riverside track. A short way along were 3 other TGO-ers – fellows from my night at Erogie – limbering up for the day. They were heading south for a direct crossing towards Aviemore, whereas I wanted to follow the River Findhorn some more before finding a more easterly parallel route to Boat of Garten.
There's a high liklihood when you spot a couple of walkers in the distance taking roughly the same direction as you that these are also TGO-ers. As I changed direction from north-east to south-east, missing tracks shown on the map, I could see two people following a line parallel to mine. They stopped and sat down, so I didn't find out how their route matched mine, but I later learned that one of the two walkers was Kate, my companion from a couple of days earlier.
The brown hills and tracks of the Monaliadth were soon passed on this trajectory which follows the direction of the A9, but a couple of kilometres to the west of it. This joins one of the many tracks shown on the map as 'General Wade's Miltary Road'. One characteristic of these are picturesque bridges.
The track passed through some woodland that was guarded by a capercaillie. I had never seen or heard of this bird before. It really didn't like me stopping to take a picture and chased after me, pecking at my walking pole.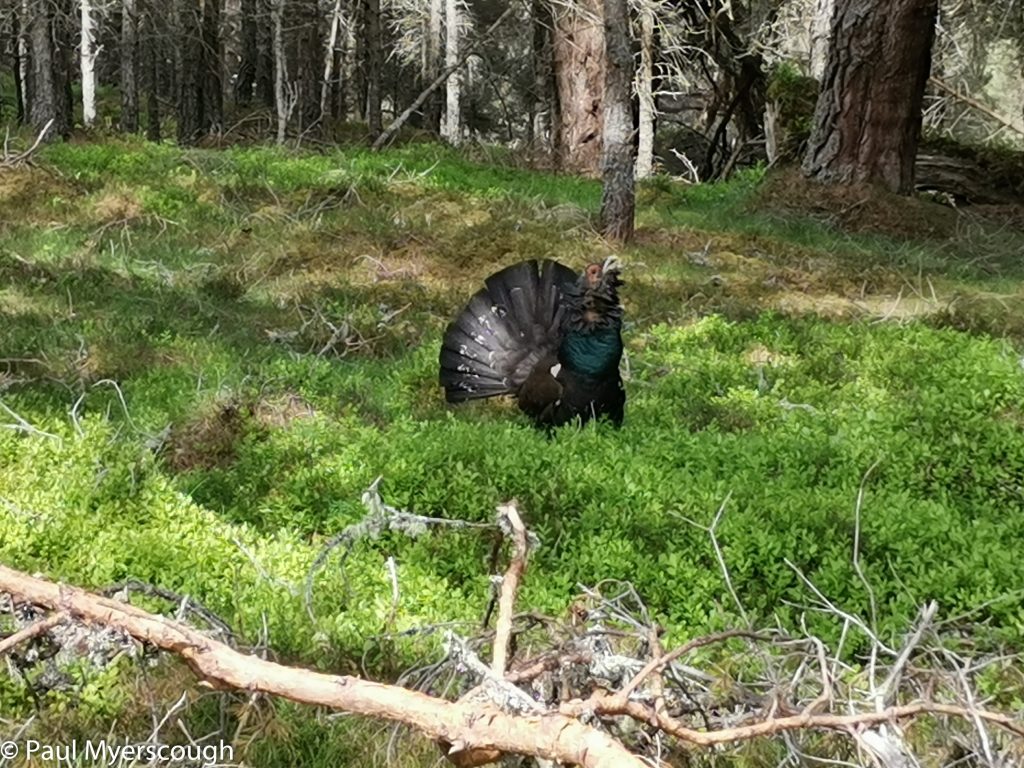 Boat of Garten post office provided cake and tea and other edibles. I sat at the bench outside wondering if another TGOer would come down the road to join me. This seems like a dormitory town for Inverness, with not many options for overnighting. I had walked past Fraoch Lodge on the road into the village – this is the home of Scot Mountain Holidays who have a mailing list I subscribe to. I had a snoop around, but no-one was there. Kate who came here a bit later rang the bell and as a result found a comfortable bed for the night!
I continued a bit further, crossing the Spey and getting a first glimpse of the Cairngorms as I walk along the road looking for a suitable spot to camp.
The next day I planned to ascend the ridge by Milton which would take me all the way to the top of Cairngorm, so some rough ground besides Milton Burn seemed good enough!