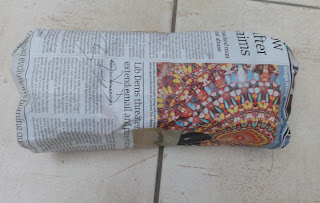 Take one house brick. Clean off any loose debris. Cover in several layers of newspaper securing with tape to smooth out rough edges. Then wrap in a plastic bag to avoid sogginess in case of rain. Weigh this. The one above weighs 3.2 kilos.
The TGOC is challenging along several dimensions.
The first is the 14 or 15 kilos I will carry on my back to be self-sufficient for a few days in the hills.
To prepare for challenge 1: One bolder in the bottom of the pack with two bricks. A bottle of water and sandwiches on top makes around 14kg.
On a Sunday walk in the Oxfordshire countryside everyone thinks you're just carrying a spare jumper and waterproof. As long as you stand straight that is. Does 3 hours of this help? Difficult to say, but at least it is possible to be sociable with more normal people.