First thanks to Llendorin who corrected my assumption in 'Blue Tit Ways'.
Here's
more information. There are several differences between the blue tit and the great tit, but the most obvious even in black and white, is the white area above the eye in the blue tit. Great tits have a black head piece which extends to just below the eyes.
Second although I've been thinking 'Exclamation Mark!' since the disaster, after reviewing the pictures again I'm wondering if it should be 'question mark'? Great tits do look alike – has the occupant changed since a few weeks ago? Also – is it possible that disease has played a part in this story?
Blue Tit Ways explains that our nest box was adopted by a bird which layed 7 eggs. It sat on them for two weeks day and night with only short breaks until one day, early in the morning, it disappeared. A nest without a bird is very concerning when you are used to it always being there filling your screen!
By evening it seemed to be back again and, over a period of a week, it was in residence only at night time.
Then it began to sit through both night and day again. And we noticed the number of eggs was increasing.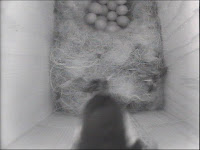 addition eggs appeared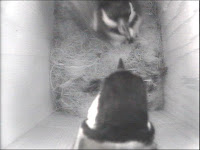 Supporting partner
13 or 14 was the final total. Fulltime sitting started around 3rd June and by 15th two hatchlings had appeared.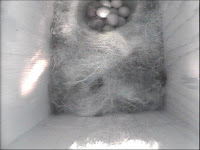 two hatchlings looking blurry to left of eggs
parent planning how to deliver food
Hatching continued apace, and the parents continued to bring food to the young, reorganise the contents of the nest and sit. The 16th of June was a busy day. So was 17th morning, but in the afternoon something seemed to change.
The parents spent more time away from the nest – first 10 minutes, then 30 minutes, then an hour or so at a time in the course of the aternoon and early evening. The feeding became less frenzied. The interval between arrival of a parent with food and the opening of the hatchlings' mouths which for a short while was instantaneous became more and more delayed. Then fewer mouths seemed to open.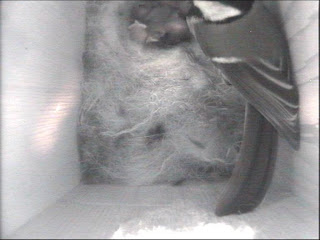 no open mouth to feed
By the end of the day around 7pm the parents arrive with food. The babies wriggle about in response to the presence of the older birds but their mouths are firmly closed. There are no takers.
That night the parents were absent.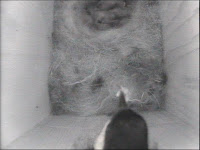 all that's moving is a fly
And the next morning they make a brief visit at 7.30 with some food, but all that moves is a big black fly.