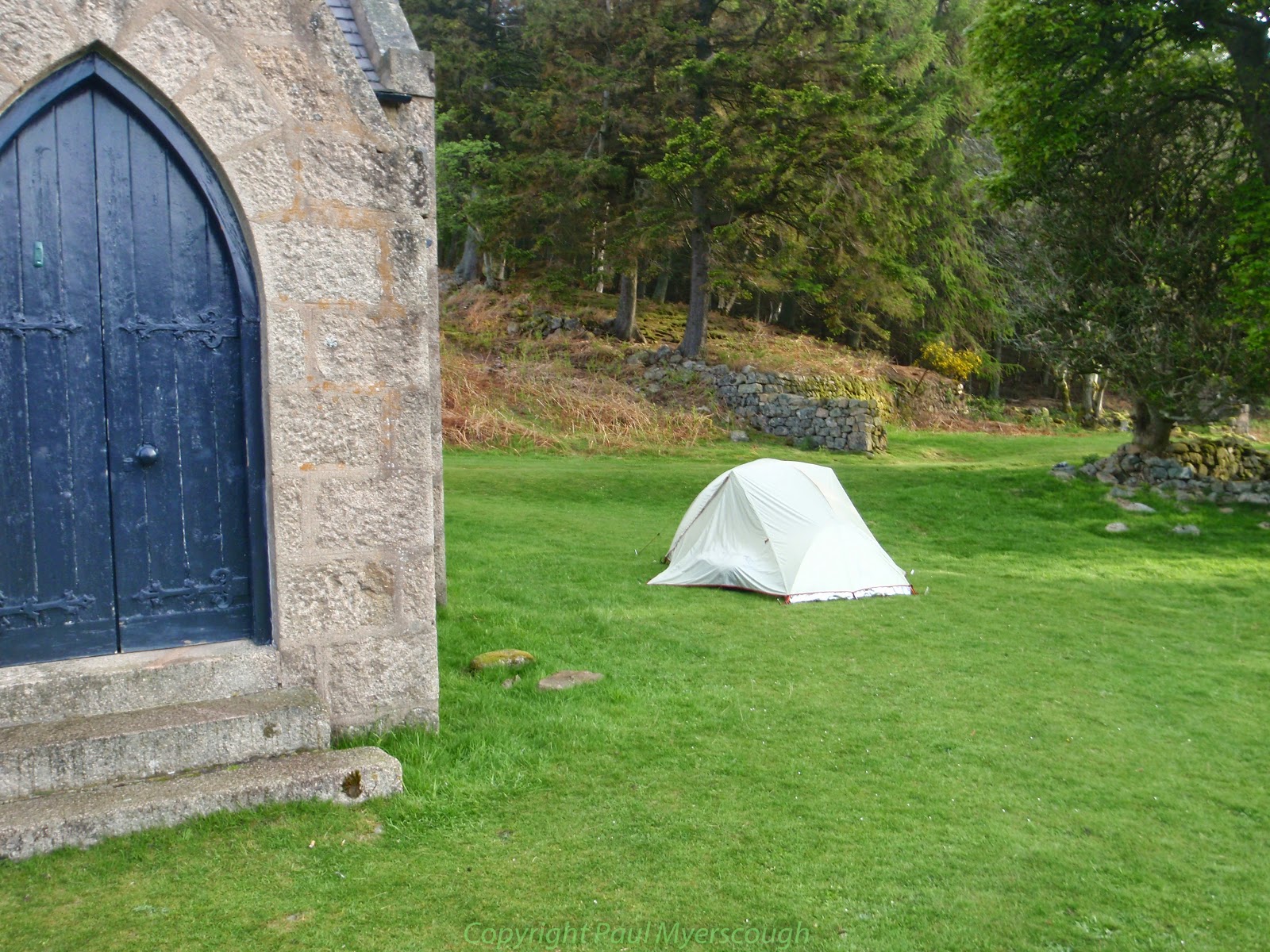 I left Tony and Jackie tucked up in their tent and worked my way across to the track up White Hill on the other side of the valley.
Download file for GPS
From now on the mountains are behind me. I move eastwards trying to keep to the relatively high ground of the hills and moorland as far as Fetteresso Forest.
This is shooting country and land rover tracks reach much of the high ground. Moving from one area to another may require a pathless tramp over a valley which borders land belonging to two different owners. On the high resolution OS map it mentions 'grouse butts' in many places. These are lines of shooting stations built on the hill side.
The ridge heading east from Mount Battock provides an easy route with a distinctive rock pile as a target at Clachnaben above Glen Dye. Here are many day walkers enjoying the spring sunshine.
The green of grass in the Dye valley and the wooded areas ahead contrasts attractively with the barren grouse moors, and the windmills looking over this scene from the far side look like something from Doctor Who.
The map shows a footbridge across the Dye just below Heatheryhaugh. Described by many as a 'locked bridge' I am keen to investigate. In fact it is a basket on a wire which goes high over the river and, as many writers have noted, it is padlocked to prevent use. Strangely there is no obvious path on either side of the river so even the key holder may not use it.
I was ready to turn back and use the road bridge, but the river was low and I found I could wade across just a few meters downstream.
The spooky windmills visible earlier but now out of sight form part of the plantation of Dennytys at the western edge of Fetteresso Forest. Heading this way, beyond the farmstead of Heatheryhaugh the path works its way upwards and into an enclosure. A narrow path (therefore most pleasant) traverses around the contours of Little Kerloch before hauling up to the last high spot of Kerloch itself at 534m. From this vantage point the full extent of the wind farm is evident stretching eastwards with miniature figures of workers and their vehicles dotting the access roads.
My camping spot was well planned – a narrow green strip on the map between the trees with a stream. I expected an easy walk around tracks shown on the map, but on the ground navigation for this last 2km was difficult and I reach for both compass and GPS for help.
Eventually I found my spot, only with a tent already parked there! Tiny and closed up tight with walking poles tucked neatly in to the side, it felt strange to put my trailstar on the same bit of ground, and also strange to be surprised to find someone else here. Flattened grass on the other side of the stream indicated that others had used this location in the last few days and I settled there.
Half an hour later a cheery Martin Bamfield announced himself. It was his small tent. He had closed it up in order to get on with a bit of admin, and blog writing over he was ready for some conversation. His plan was to leave early, 'very early', so he could reach Stonehaven by midday, and as he needed to get to the Pyrennes for a walk that weekend. I expected to see him as I woke before 5am, but he had already gone – I learned later he had left at 4:15am.
By morning there were two other tents there, apparently Bernie Clark and Stefan, I set off before there was signs of life from these two.
Fetteresso is notable for the large scale works over the last year or two, and there is a network of wide and well made access roads to match. Walking here between 7 and 8 in the morning there is a intermittent stream of traffic traveling in the opposite direction – all following the protocol of driving at 20mph with emergency light flashing. It may be possible to find footpaths, but the signs I saw were often blocked by the road workings and seemed not to lie on a path and indicated places not shown on my map. Using my OS map I managed to navigate the access tracks to the eastern edge of the forest. I emerged by a car park at a place shown on the map as Swanley.
13 in here! Here is an example of one of the frustrations of OS mapping: what is a path? In OS 1:50000 a path is shown as a dashed black line; in OS 1:25000 a dashed black line is a border of some sort, whereas the path is more like a green, brown, or black dotted line. If you look at the 1:50000 map there is a path leaving the forest eastwards and crossing open ground to a farm called Blairs. Now zoom-in to 1:25000 – the path has disappeared, but maybe there is a road or track not shown on the other map which heads south from the car park parallel to the electricity pylons before heading east to another farm called Hindwells. How was it on the ground? Well there was no obvious path or track, although both may have existed and become overgrown.
Having a large pack and with bad weather forecast I was not going to spend time to investigate.
Download file for GPS
The tramp around the road was only about 1km anyway, and brought me nearer to Fetteresso Castle. In a field just to the east of the building is possibly the oldest intact dove cote in the country.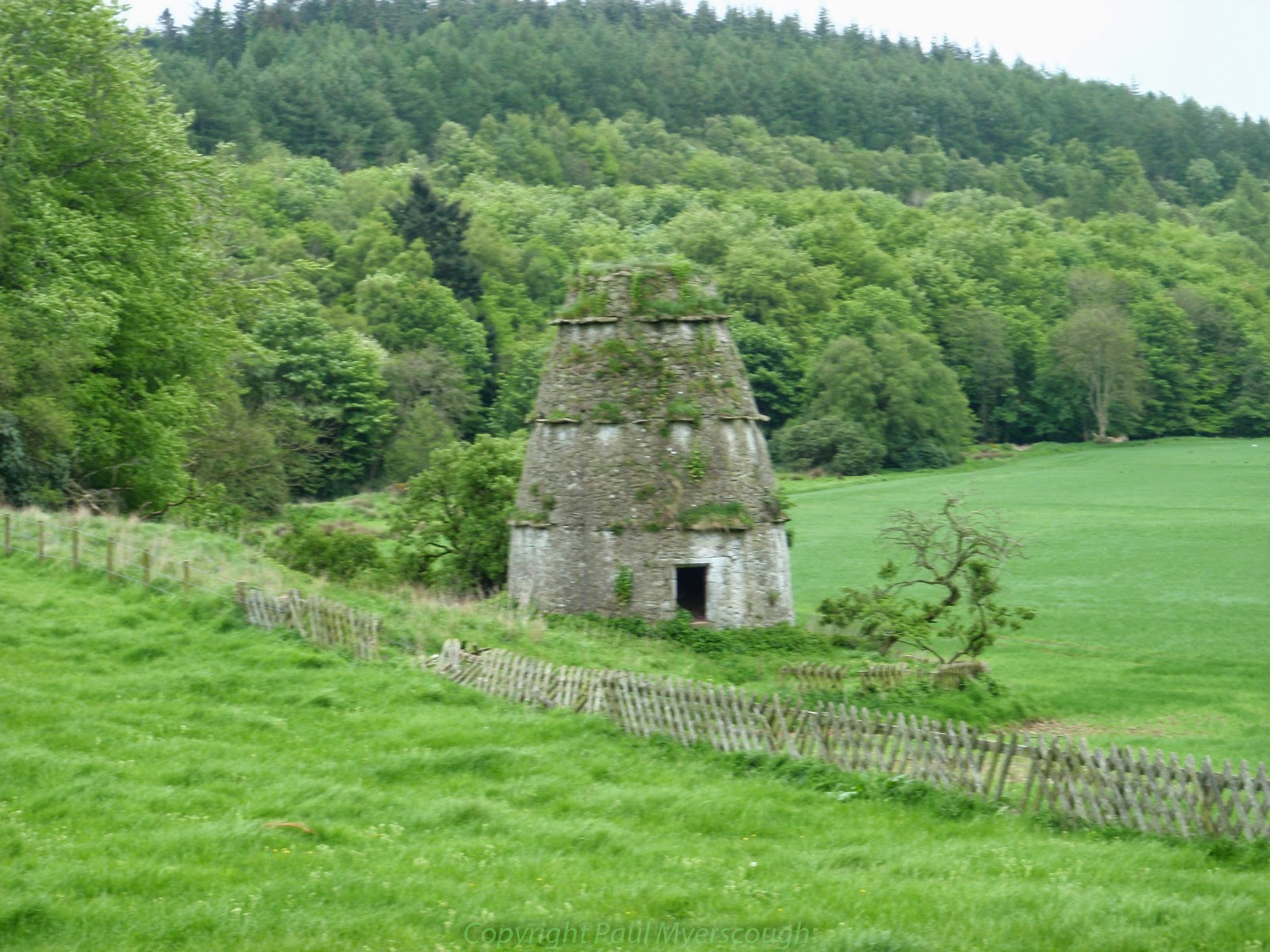 14/15th century dovecote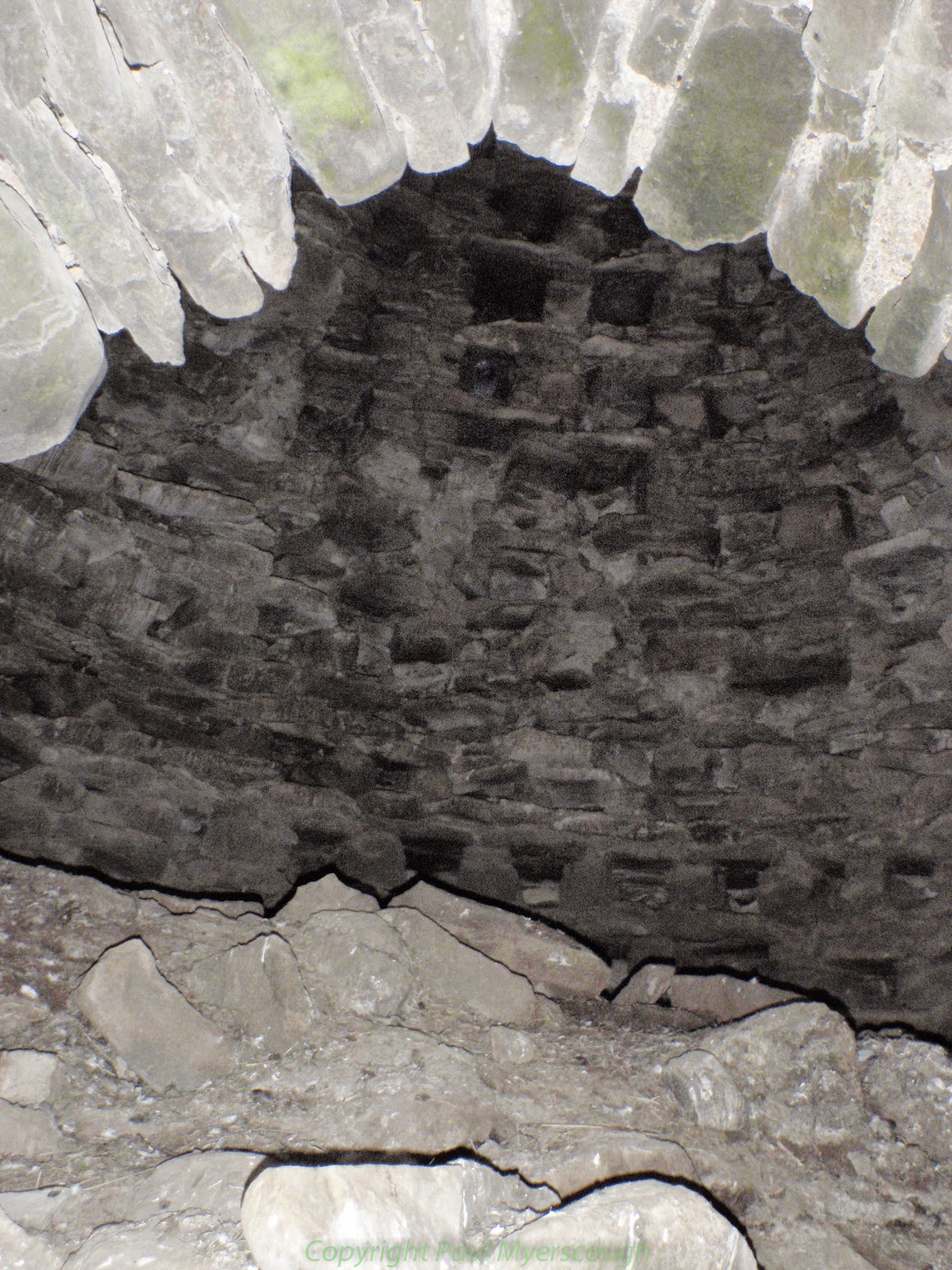 dovecote interior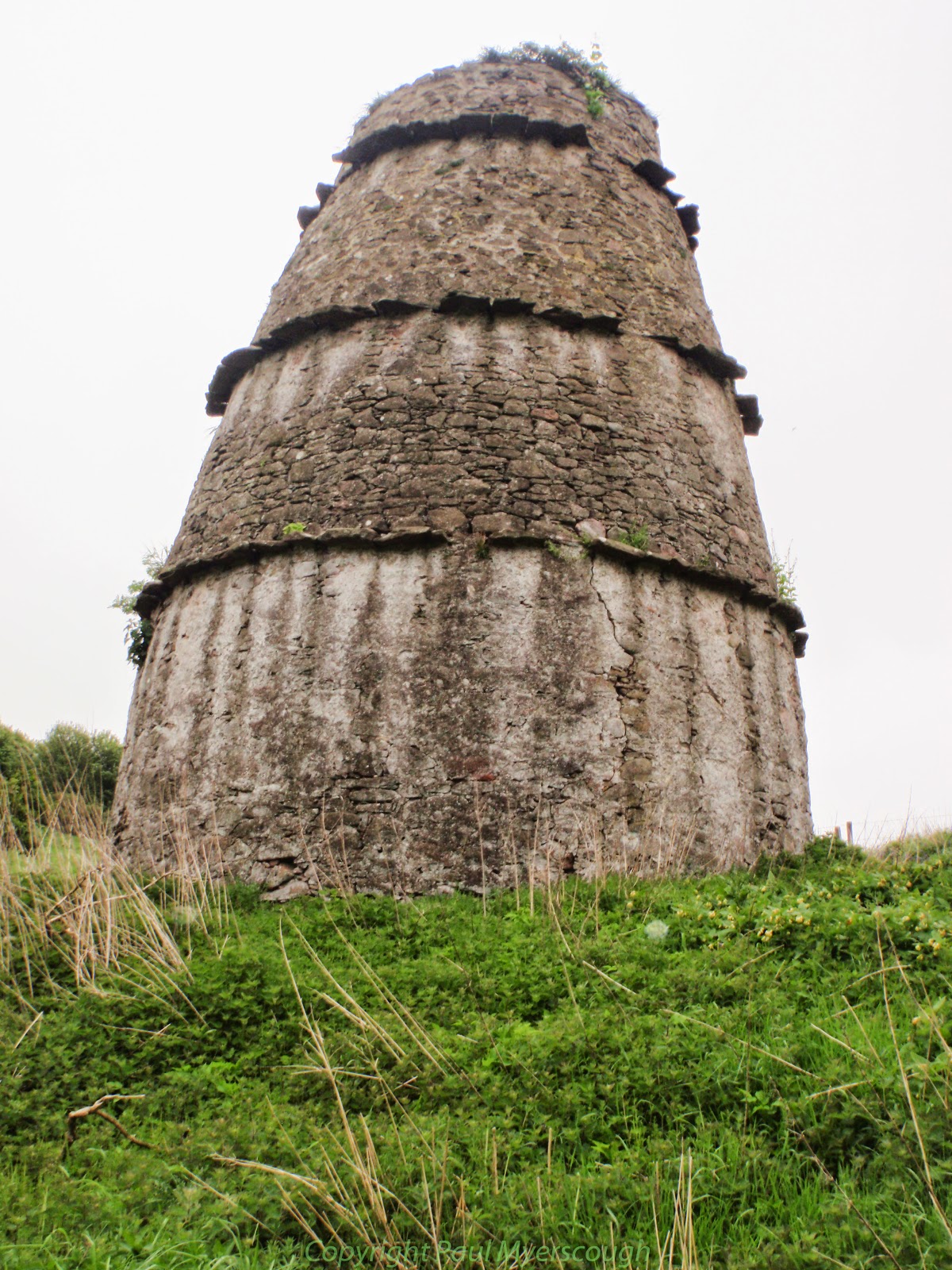 This was probably built in the 14th or 15th century, and as I stuck my head in the entrance a couple of blackbirds escaped. The picture shows the concept with tiered bays inside, row after row in which a bird can roost.
Heading towards the bottom of the field I found the bridge shown on the map – a steel structure looking unused and unsafe and with an uncertain destination.
I followed the stream Carron Water for quite a way until I found somewhere I could cross while keeping my boots on. Then by backtracking a little on the railway embankment I crossed over a little used bridge.
As it started to rain I look back northwards across to the road where I could make out three shapes with backpacks marching eastwards. I was not alone!
The final two or three kilometers are inevitably on road, and it is a relief to reach the car park for Dunnottar Castle. Here a bearded anorak announces himself as an ex-TGOer waiting for the Hardy Gang. I'd already heard they had 'plan' including beer and a lift for their arrival at the east coast, so I was happy to let the man know that I'd seen them not far behind.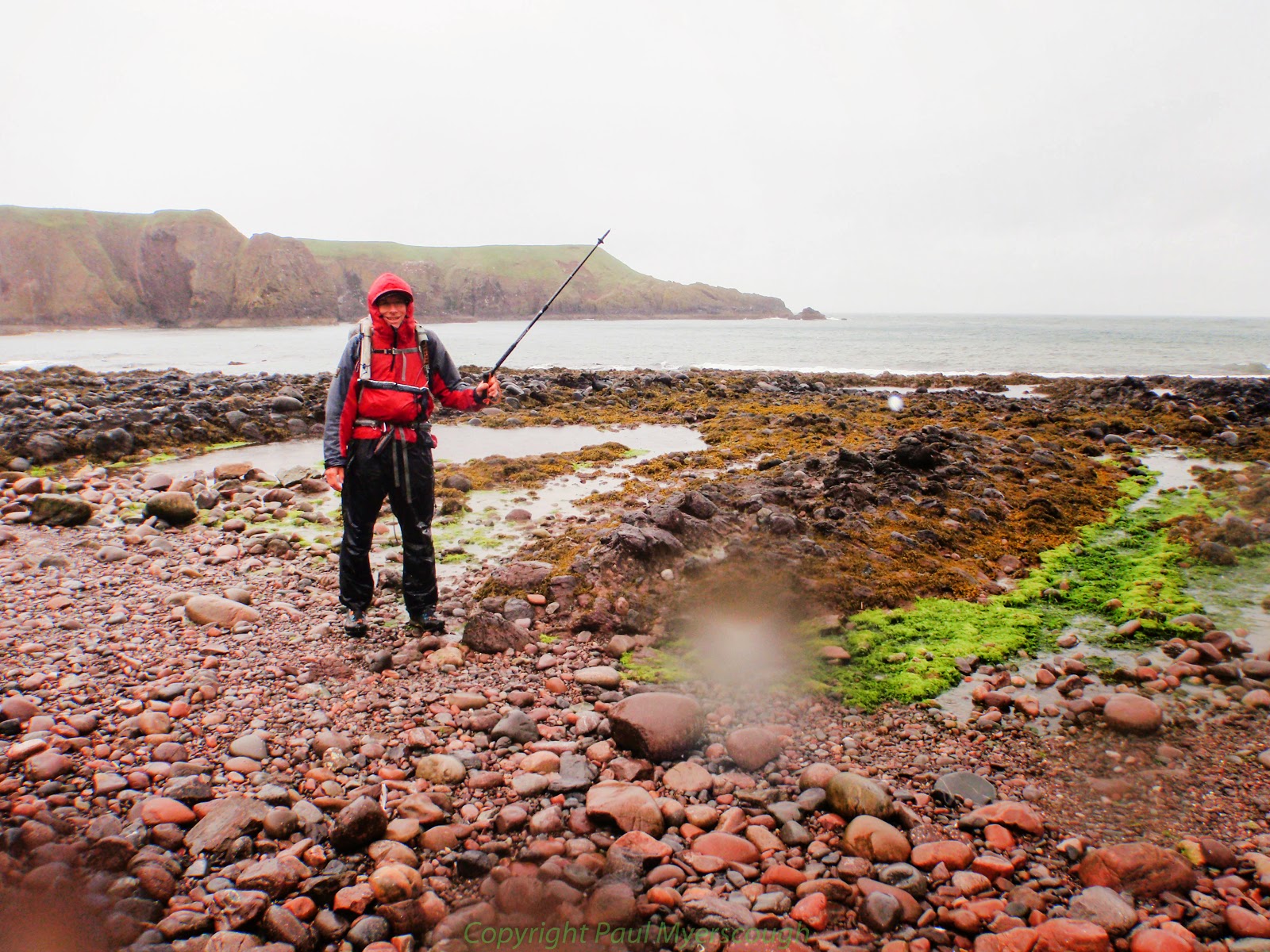 Dunnottar Beach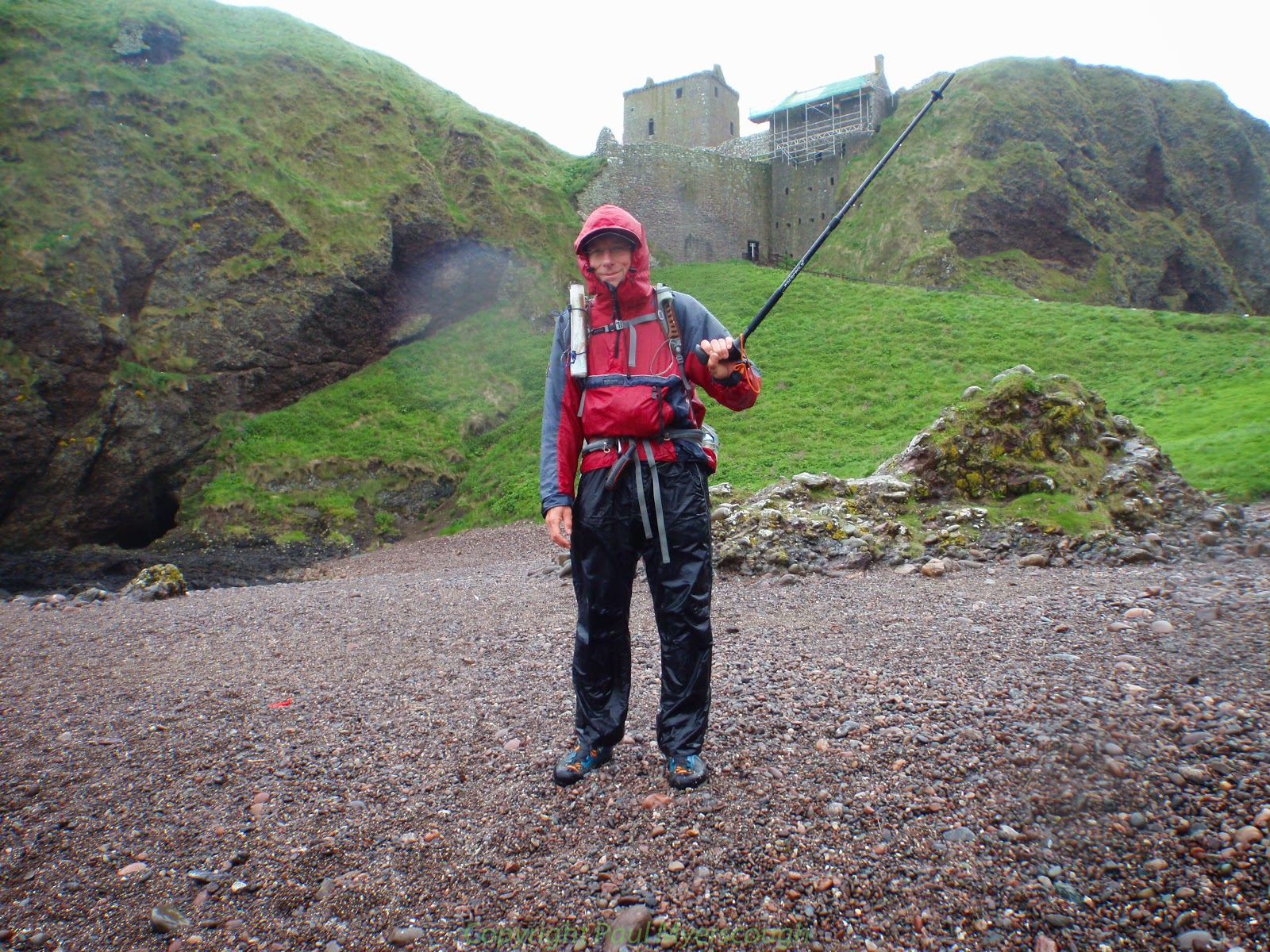 Dunnottar Castle
Reaching the beach was the end of my crossing. All I needed now was some sunshine to let me dry out and enjoy the feeling of arrival. Unfortunately my need was left unmet. The Hardy Gang arrived as I left for the 2–3 km walk to Stonehaven getting colder and wetter.
Stonehaven has an 'award winning' fish and chip shop; there's also some attractive Inns overlooking the harbour. With wet-through clothes and pack, however, it is uncomfortable everywhere. I decided to go for the fish and chips and walked in from the harbour only to find that the award winner was the 'home of the deep-fried Mars Bar'. There was no restaurant. Eventually I found somewhere else where I could recover my spirits with some food before finding the bus that would take me to Montrose.