The TGO Challenge
The TGO Challenge takes place in May and it is now August, and for some unexplainable reason I still have not completed the write-up. Probably I should learn from Martin Banfield who I found shut up in his tent in the middle of Fetteresso forest writing his blog. Last time, in 2012, I did a bit of writing 'on the hoof', but getting the typing technology right is rather critical and this time I decided travelling light was more important.
What is the TGO Challenge? I don't need to tell you – find out here!
A large part of the fun is in preparation. Planning the route. Fine tuning the equipment. Testing. Getting in shape. Working out a food strategy. Arranging the transport and accommodation.
Then, one Wednesday in May a stirring takes place in odd corners of the UK and other parts of the world as 300 or so TGOers from all walks of life put aside their daily chores once more and head to the transport hubs that will lead them to Scotland and their chosen start point on the west coast.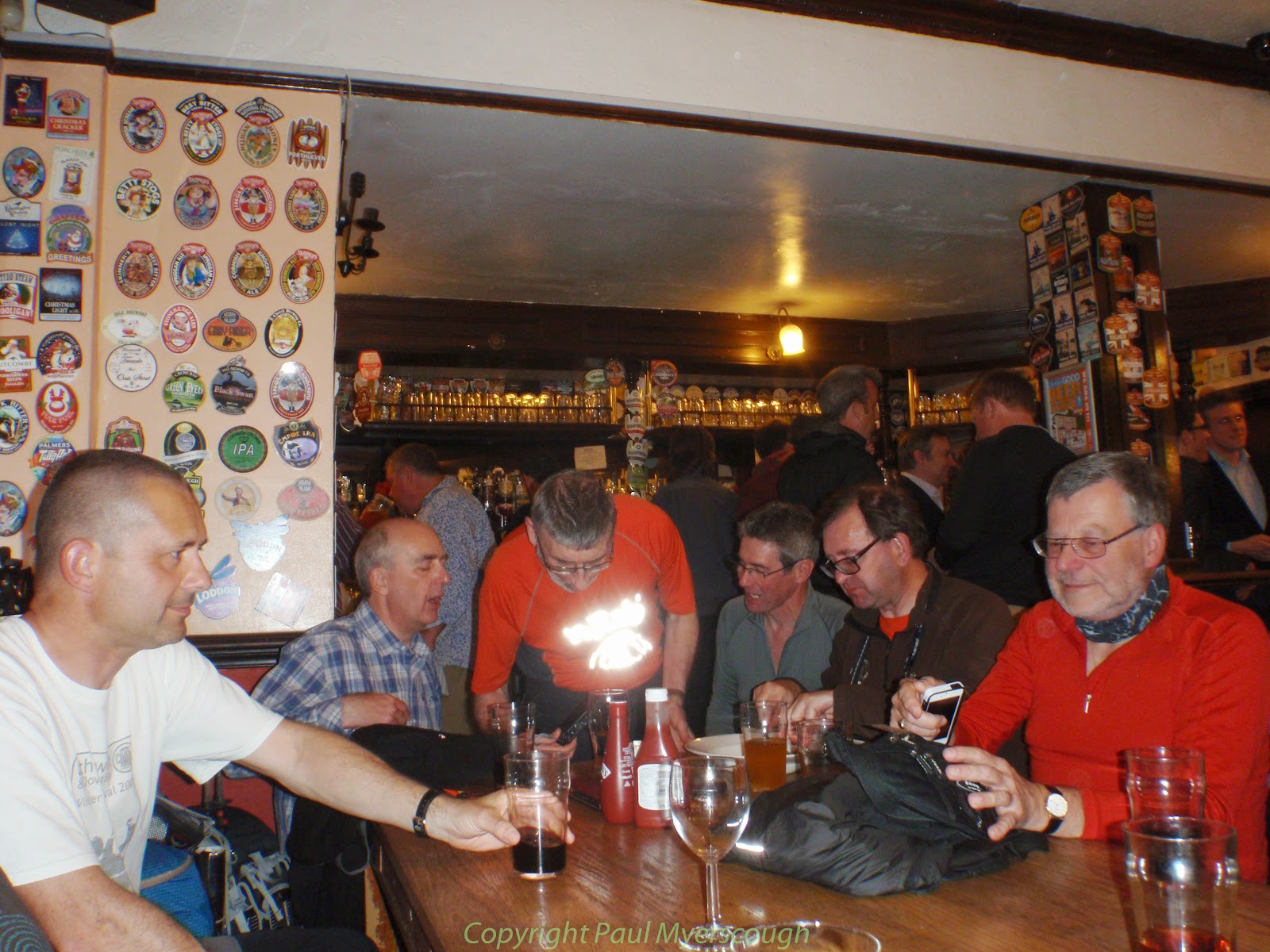 TGOers awake!
Here we can see a collection of TGOers limbering up for the night train from London to Scotland. The one with the light shining through shares his experiences here.
What's new since 2012?
What is different for me this time?
Feet. In 2012 the number 1 problem came from my feet. My boots were fine for walking in the dry, but with several days of continuous wet I got sores and blisters which I was ill-equipped to treat. After trying many different types of footware I settled on a new pair of lightweight Scarpa boots which were satisfactory, but probably more significant was my use of moleskin to protect areas of my feet from rubbing.

Maps

. Last time I printed my route from OS Getamap on pages of A4 paper. This is risky – if the paper gets wet it disintegrates. This time I used plastic – a product from Xerox called 'nevertear'. And as I no longer have access to a colour duplex printer I had to find a print shop to prepare these sheets for me. With sore feet I had wanted to vary my route but this was not possible without maps covering other areas. So this time I took a couple of OS maps, and sent a couple more to one of my stopping off points. The only map I used was for the Cairngorms where I added an extra day's walk when I realised I would reach the end too early.

Electronics

. Charging phones and computers and camera batteries was quite a palava, sort of helped by a clever universal charger which covered all batteries. But it still needed mains electricity. This year I bought a cheap and simple Nokia phone which would not need to be charged at all over the two weeks. I took two spare AA batteries for the GPS (which I rarely use) and for the camera I carried 6 replica Olympus batteries bought very cheaply on E-Bay and Amazon. So no electricity necessary.

Gear updates

.
I treated myself to the new NeoAir sleeping mattress – the Xtherm version. This was a good buy. The weight at 480 gm was less than my previous mat a Thermarest Prolite and warmer. I chose 'regular' size – which is probably longer than I need and the extra 10 grams over the medium size did not give me any advantage.
I replaced my Alpkit sleeping bag with a new one bought in the PHD sale – a non-standard Minim 300. Without a zip, it weighed 735 gm about the same as my Alpkit 400 down bag but was more roomy and a little warmer. Strangely it weighs more than that stated for the standard PHD Minim 400. (Is there an explanation for this?).
I used Crocs as camp shoes and for river crossing – they are very light, but a bit bulky to carry. I swapped these for old stock Saucony running shoes this year. Quite smart, these are even lighter, but they do take time to dry out. This is a disadvantage not only after river crossings but also after nightime walks around a wet campsite.
Although I rarely use a GPS I'm really appreciative when I do get it out. My old Magellan had a button which sometime did not work so after some investigation I played safe and bought a Garmin.
After finding my old Tikka head torch, used mostly around camp, was quite useless for night walking on a mountain I bought a new Tikka XP which seems well rated. In Scotland in May there are not many hours of darkness and I never used it.
I like my British ergonomically designed Pacer Poles and for this year I treated myself to the camera attachment which is great for holding the camera steady and for selfies and meant I could dispense with my mini-tripod.
The Journey
| | | | |
| --- | --- | --- | --- |
| | From here … | | .. to here! |
The links below reach descriptions of sections of the route which were walked from Torridon on Friday 9th May to Dunnottar Castle on Thursday 22nd.
The walk ends on the west coast followed by public transport to Montrose for check-in and a gathering.
For me a BandB with a hot bath. For many, the final day on the campsite is an important part of the overall experience. This year it was full of caravanning fans of the group Status Quo who were appearing on Friday night at the
Montrose Music Festival
. The
Park Hotel
came to the rescue and opened a corner of their garden for those left without a plot.
| | |
| --- | --- |
| Status Quo fans attending the Montrose Music Festival .. | .. filled the campsite so TGOer moved to the Hotel Garden |
Celebratory dinners are held on Thursday and Friday.
Somehow the hotel produces enough dinners. Speeches celebrate the walkers, the organisers, the sponsors, the helpers, and a lot of quite old people have a great time.
| | | |
| --- | --- | --- |
| A Famous Raconteur | The Dutch Crew | Vetter Iain Shiel |
Lessons learned? A few here (and maybe more later) …
On Food. Dry biscuits travel better than sandwiches. Forget about porridge and go for granola mixed with dried milk which is good cold or warm.
Paramo. Some of the time my Velez smock was ineffective. Its poor protection from the wind blown rain and that from my Paramo trousers caused misery on the last day. Last time I used a heavier Paramo Alta jacket without a problem. The great thing with Paramo is you just walk – no need to stop to put on rain gear and then stop to take it off again, but maybe a rethink is necessary for longer trips like the TGOC.
Camping. I've been using the Trailstar for a few years now. There are still a few more tweaks to my system to improve my comfort. There's plenty of advice around -see here for example.